Ghost Team One
(2013)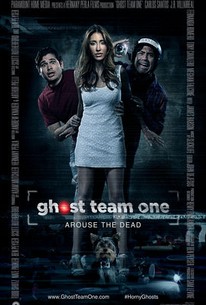 Movie Info
When roommates Brad and Sergio accidentally arouse the dead, they team up with sexy amateur ghost hunter, Fernanda, to expose the evil inside their home. But just as the guys start to get close to their hot new partner, they discover that a horny demon wants in on the action. Now, cameras are up and more than fear is rising in this outrageous romp - Ain't It Cool News calls it "...genuinely hilarious..." - where only one thing is certain: someone is gonna get screwed. (c) Official Facebook
Critic Reviews for Ghost Team One
Audience Reviews for Ghost Team One
Not funny enough to be a complete satire and not serious enough to be a healthy evolution to the haunted house genre of film, "Ghost Team One" takes the found footage, "Paranormal Activity" approach to what can only be described as a failed raunchy comedy, with very little raunch and almost no comedy. With so much potential for comedy and sex in an R rated film such as this, the team never really allows for anything the viewer may actually enjoy. Instead, we're left to the same devices we constantly expect, with nosey neighbors, a high strung, recovering addict roommate, and a love triangle between the gorgeous bombshell, the wannabe ladies man, and the geek. Were this to take on the form of a National Lampoon film with at least the hint of sexuality, this film could have reached a much larger audience of college kids and minorities, but instead, it falls completely flat, only earning its rating from its constant talk of sex and masturbation as well as a scene where a ghost goes down on one of the main characters, but even this isn't treated with humor and instead is robbed of all its hilarity, remaining stoic and not the least bit scary. If you're going to play this right, lose the clothes, up the ante, and grow some fucking balls, because "Ghost Team One" is a complete waste on all fronts.
Christopher Haskell
Super Reviewer
Sergio: I would like to report an emergency, there's a demon in my house... ... They hung up on me. Here is the humorous plot synopsis for Ghost Team One: In early 2012, filmmaker Billy Chen answered a Craigslist ad looking for someone to document possible paranormal behavior. What he found were two sexually retarded friends (Carlos Santos and J.R. Villarreal) scheming to impress a beautiful woman (Fernanda Romero) who believed their house was haunted. They were willing to face their darkest fears to get in her pants, but found themselves much closer to a demon whore than the woman of their dreams. Warning: This film is not for those with weak hearts or strong genitals. read the whole review at thecodeiszeek.com
Aaron Neuwirth
Super Reviewer
Ghost Team One Quotes
There are no approved quotes yet for this movie.