Ghostbusters 2
(1989)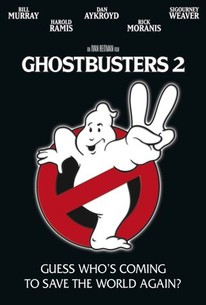 Movie Info
Ivan Reitman's sequel to the phenomenally successful Ghostbusters is looser and more self-assured than the original. The film opens with a title reading "Five Years Later" and finds the ghostbusters living in hard times. A restraining order has forbidden the boys to partake in paranormal warfare, and as a result they have had to seek other lines of work. Ray (Dan Aykroyd) and Winston (Ernie Hudson) spend their time performing at children's' birthday parties, and Egon (Harold Ramis) is busy conducting experiments investigating the effect of human emotions on the environment, leaving ghostbusting behind. Venkman (Bill Murray) and Dana (Sigourney Weaver) have split up. Venkman now hosts a local cable show called "The World of the Psychic." Dana, now divorced and the mother of a little baby named Oscar, works as an art restorer in a museum -- and this is where the plot kicks in. While Dana is restoring a portrait of a 16th-century tyrant by the name of Vigo the Carpathian, the portrait becomes hexed. The evil Vigo wants to return to life by taking over the body of Dana's little child. Vigo has enlisted Dana's boss, Janosz Poha (Peter MacNicol), to compel Dana to cooperate. Soon dirty sludge and slime flow through the streets of Manhattan, and the ghostbusters have to reunite to save the city from a funky paranormal evil. ~ Paul Brenner, Rovi
Critic Reviews for Ghostbusters 2
Audience Reviews for Ghostbusters 2
½
Several years after the success that was the first Ghostbusters, a sequel was made, and it is a film that often is considered by many people as a mixed bag. Me personally, I love it, sure it isn't as big of a fresh air or as funny as its predecessor, but the effects are still great, the comedy works well, the acting is still spot on, and the epicness factor is cranked up massively in this film in the last 25 minutes. Sure it does have some dumb moments, like Peter MacNicole turning into that ghostly Mary Poppins freak, but it still does work great, and Rick Moranis really seems to steal the show in terms of comedy and goofiness. In the first film he is just a forgetful nerd character, but in this film he has a much bigger role. The film isn't as big of a breath of fresh air as the first, but it is still very funny, and it is entertaining enough to keep you watching.
Michael Edwards
Super Reviewer
½
The original cast, director and writers return to the ghost mine again, but they bring a kind of smug self-assurance (faked in the original, but here in truth) that undercuts the comic proceedings. And so, like many sequels, it is not as good. Not as good as it is to see these old friends again, even though they are not as funny. The payoff ending sequence with the Statue of Liberty is downright embarrassing, it's so bad. One wishes that they've focused on Moranis, Potts and MacNicol and saved the big four for last. Ah well.
Kevin M. Williams
Super Reviewer
It's pretty tough for a sequel to best, let alone match it's predecessor, especially when the first one is an undisputed masterpiece. So yeah, Ghostbusters II isn't as good as the first, but it's not a bad film by any means. Unfortunately most people don't see it that way. Me, I really like this one, and think it's still a really decent film, even though it isn't what it could have been. The story begins five years after the first. Following the defeat of Gozer at the end of the first film, the Ghostbusters have actually fallen on hard times. Instead of being hailed as saviors, they have since been slapped with a restraining order and forced to cease their ghostbusting due to all the collateral damage their 'busting' causes. As a result, the four have hung up their proton packs and gone on to other activities. However, they are forced to get back to it when an evil ooze begins wreaking havoc, especially when it possesses a painting of an evil 16th Century Carpathian tyrant named Vigo, causing him to come to life to terrorize all who end up in his way. I think the main issue at hand here is sequelitis. It's just unable to capture the magic that made the first so special. It doesn't have the freshness, nor does it have the same level of laughs, wit, and energy. Ivan Reitman returned as director, and co-stars Aykroyd and Ramis once again wrote the script, and, while they don't do bad in these roles, their performances don't really stand out. I do however, like that they raised the stakes, and showed how actions have consequences. I just wish they could have come up with some more creative and stronger ideas. The music is still good though, and I still dig the effects, and yeah, the performances are fine, if slightly worn, but, even though this one has it's moments, it doesn't have near as much heart as it should. I'm still giving this one a really high rating though, as I'm a big fan, I like these guys and what they do, and it's still a fun and entertaining film. Yeah, some of it is a bit sillier, but I can't help but like it. Without a doubt, my main reason for really liking this is personal. Sentimentality is key here, as the earliest memory that I can recall is seeing this in the theater when I was a mere three years old. I can only recall one scene clearly, but still, it's a memory I want to cherish as long as possible. Bottom line: yeah, this is a step down, but it's still a pretty decent film, and offers a fair amount of entertainment, and, compared to a lot of sequels, it's quite strong, so give it a chance.
Chris Weber
Super Reviewer
Ghostbusters 2 Quotes
| | |
| --- | --- |
| Peter Venkman: | Kitten, I think what I'm trying to say is, sometimes, shit happens, and who ya gonna call? |
| | |
| --- | --- |
| Louis Tully: | So, you wanna play 'Boggle' or 'Super Mario Brothers'? |
| | |
| --- | --- |
| Dana Barrett: | (about Oscar)What do you think? |
| Peter Venkman: | Well, he's ugly. |
| | |
| --- | --- |
| Peter Venkman: | oh did you ever fall for that, the old hand eating toaster trick. |
| Peter Venkman: | Oh did you ever fall for that, the old hand eating toaster trick. |