Ghosts
(1997)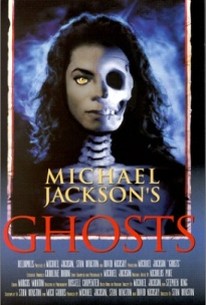 AUDIENCE SCORE
Critic Consensus: No consensus yet.
Movie Info
Pop singer Michael Jackson offers further exploration of his fascination with horror films in this chilling extended video. He plays the Maestro, a mysterious storyteller who invites children into his house and frightens them just for fun. When parents object, he demonstrates his art to them.
Critic Reviews for Ghosts
There are no critic reviews yet for Ghosts. Keep checking Rotten Tomatoes for updates!
Audience Reviews for Ghosts
Fun entertaining and one of MJ's greatest songs of all time, and one of his best music videos.
Michael Edwards
Super Reviewer
½
Short film/musical video which is along the same lines as 'Thriller' but not quite as good to be honest. Directed by Stan Winston so you can imagine I'm not lying when I say the whole thing looks damn good plus any video MJ tended to do always did have allot of good imagination/fantasy elements which usually looked great and kinda pushed the boat that little bit in terms of special effects. This isn't as much of a earth changing short film but it still has some fantastic horror makeup, costume design, a great set and the standard MJ musical dance routines with many dancers backing him up. If you like MJ you will like this (I enjoyed it as a fan) and its worth seeing if you like Winstons work also as there are some really nice sequences eg. a skeletal MJ doing his famous moves.
Phil Hubbs
Super Reviewer
½
"Did I scare you?" I wouldn't actually categorize this as a film. 'Ghosts' is a genuine music video and in fact holds the record of the longest music video ever made. And what a music video it is! I have to start by saying that I've recently started to listen to Michael Jackson's music. After his death, he became more covered in the media and I just became interested. Don't get me wrong. I've known his music since the late 80's and I've even tried unsuccessfully to copy his moonwalkin'. Never managed to do it... Not a dancer. Now I've started to listen to his music and I'll say this from the heart: Michael Jackson is an Entertainer. I saw 'Ghosts' back in '97 when it was shown on the TV. It was promoted as the biggest video ever and they were right. 'Ghosts' was fantastic and, now 13 years later, still looks amazing. What I've learned from MJ is that everything he did, he did it thoroughly with great focus and ambitions. Think of it, 13 year old SFX's and they hardly seem out dated. There is a small hunt-and-banish the freaky guy out of town plot but that's not the point here. It's all about MJ's dance and music. He is the greatest single performer that has ever lived. The timing of his music, the usage of his body... The background dancers. Everything is guaranteed MJ. Just as the fans like it. There are small things that bothered me a bit. In '97, MJ had already reached the peak of his career. The songs in 'Ghosts' aren't just not good enough. They're ok but like so many other artists, MJ made his best songs in the start of his career. Another thing was the obvious "twist" that I figured out instantly. It kinda weakened the whole experience. 'Ghosts' is no "Thriller" but this I can say... 'Ghosts' is the biggest (and probably most expensive) music video ever made. It also works as a short film and it's definitely worth a look, especially if you're a fan of the late legendary visual effects and make-up artist guru, Stan Winston.
Ghosts Quotes
There are no approved quotes yet for this movie.