Ghoulies
(1985)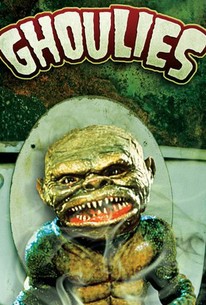 Movie Info
Joe Dante's box-office fantasy Gremlins had barely left American cinemas before Charles Band's B-movie factory, Empire Pictures, rushed out this cheap knockoff. While Dante's film benefited from the director's wry sense of humor and the high-concept clout of executive producer Steven Spielberg, Band's tawdry little creature feature boasts lower production values than a high-school haunted-house fundraiser. The title monsters are a pack of obnoxious demons -- enacted by a handful of rubber dolls covered with KY jelly -- summoned up by the metaphysical shenanigans of college student Jonathan Graves (Peter Liapis) after he discovers his late father's occult paraphernalia at the family estate. Jonathan later invites a group of annoying friends to participate in an all-night party, during which he intends to perform an elaborate parlor trick -- actually a satanic ritual through which he hopes to acquire his father's supernatural powers. This doesn't sit well with Dad, who bursts violently from his grave (a nice touch) to have a chat with his wayward son while legions of ghoulies (well, four or five, anyway) descend upon the revelers. Considering the entire production revolves around the antics of the ghoulies themselves, the alleged puppetry involved is laughable -- the inarticulate puppets do little more than open drooling mouths full of pointy teeth before offscreen stagehands fling them at the heads of cast members. The film's main points of interest lie with the supporting cast, which includes Bobbi Bresee as a supernatural seductress (sporting an eight-foot tongue!) and Eraserhead's John Nance as a bizarre gardener. Somehow, this became one of Empire's top moneymakers, spawning no less than three sequels.
Critic Reviews for Ghoulies
Audience Reviews for Ghoulies
Not going to lie, this is awful. I remember years ago as a child, I would see the advertisements for this in the video store window (for VHS, no less, how much am I showing my age!). Always kind of amused and tickled me seeing the ghoulie head sticking out of the toilet. Of course, there was no way I was renting that one - we didn't even have a video player at this stage! When I saw it and the sequel for $2 secondhand yesterday, I literally couldn't resist. So far only watched this first installment. Not sure I could describe the plot if I tried, but basically, it starts off many years ago in a creepy old mansion where some people are doing a satanic ritual which will end in the sacrifice of a baby. The baby is saved by one of the members and it all goes to hell. Flash forward 20 years later, and the baby is all grown up and has inherited the mansion, which he moves into with his girlfriend. He finds an old occult book and slowly the evilness from the past is channeled through him. That's pretty much it. There are gaping holes in the plot, so it's actually better not to over think it. Instead, enjoy the sheer badness of it all - green possessed eyes, puppets (why the ghoulies are there I have no idea, and quite honestly, the green ones are more cute than scary), levitation and a leading lady with a very unique appearance, which lends itself well to this not so creepy horror film.
Nicki Marie
Super Reviewer
½
One of Charles Bands best known cult creations which is curiously similar to the horror comedy released a year prior 'Gremlins'. Clearly the best of the bunch this ghoulie romp see's a young couple inherit an old house with a dark secret in the grounds and the bowels of the house (as usual for old houses). The young man of the new house finds an old spell book (as you do) and is slowly possessed into conjuring up the ghoulie creatures to...well I'm not sure, something to do with devil worshipping blah blah blah. The film is of course low budget and completely trashy but the small puppet creatures are actually pretty neat looking and fun to watch. Much like the puppets from 'Puppet Master' the creations do hold a nice appeal and do look cool, they are all hand workable so you mainly get faces shots and torso's. Not really any blood or gore but the odd decent makeup job and with some curious names in the cast (Sting lookalike Michael Des Barres). Like many cheapo horror films the first isn't too bad but they just ruin any self respect by churning out terrible sequels.
Phil Hubbs
Super Reviewer
½
This is pure trash. The special effects were horrible and the plot was dull. Ghoulies is not exactly a quality horror / comedy, but it didn't suck badly enough for me to actively hate it. In fact, I thought that it was goofy enough to be amusing. The title creatures are a funny (if undeniably ugly) troupe of poorly manipulated puppets and unlike other films. Believe it, Gremlins is more successful, scary and funny than these ugly demons.
Dean McKenna
Super Reviewer
Ghoulies Quotes
There are no approved quotes yet for this movie.