Ghoulies 3: Ghoulies Go to College
(1991)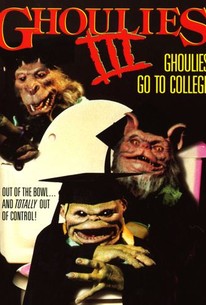 AUDIENCE SCORE
Critic Consensus: No consensus yet.
Ghoulies 3: Ghoulies Go to College Photos
Movie Info
When the sinister Professor Ragnar (Kevin McCarthy) exercises some of his dark powers, he manages to summon three bloodthirsty ghouls who terrorize the college campus. Only Skip Carter (Evan MacKenzie) and his girlfriend (Eva Larue) realize who is behind the chaos.
Critic Reviews for Ghoulies 3: Ghoulies Go to College
All Critics (3) | Fresh (3) | Rotten (0)
It's got puppets and puke in equal measure, no frat party is left standing, and one of the lead Ghoulie voices is Richard Kind!
It's easy to dismiss Ghoulies III as cheap direct-to-video trash. Mainly because it is cheap direct-to-video trash; however, if you survive the bad jokes and the wacky sound effects that follow every movement of every character, you might just enjoy it.
Truly, if you wan to see the Ghoulies finally being creepy little hellraisers, "Ghoulies III" is the sequel you'll want to go to.
Audience Reviews for Ghoulies 3: Ghoulies Go to College
Why on earth is Kevin McCarthy in this bottom of the barrel muck? seriously? So this time the Ghoulies are trapped within a comicbook (beats me) and as before can be controlled by whoever releases them. So the comic ends up in a college and after many obvious false starts the demons get released. Cue lots and lots of your typical cliched, predictable, unfunny college nonsense (in typical American style) with, of course, lots of excuses for tits and ass. The tits and ass is perfectly fine in my books hehe but I think the film makers kinda forget this is suppose to be a horror comedy, not 'Porkies' with puppets. The plot is puerile and involves two college fraternities trying to 'out prank' each other to win a trophy of sorts. This of course equals lots of trouble with teachers and eventually lots of accusations of trouble which has been caused by the ghoulies. Oh and McCarthy as the main teacher tries to control the little demons for himself, gee I wonder why. Probably the worst and cheapest of the four films with nothing to keep you awake accept for tits and ass. The ghoulies are still decent looking puppets though and there are a few star names in there as beginners, the most fun (what there is of it) is finding them.
Phil Hubbs
Super Reviewer
Ghoulies 3: Ghoulies Go to College Quotes
There are no approved quotes yet for this movie.