Ghoulies IV
(1994)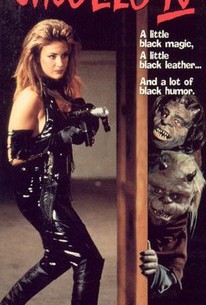 AUDIENCE SCORE
Critic Consensus: No consensus yet.
Movie Info
In this low-budget horror movie, a sexy sorceress and her two diminutive minions respond when a young man attempts to raise a demon from the depths of Hell.
Critic Reviews for Ghoulies IV
All Critics (1) | Fresh (0) | Rotten (1)
Unlike the other three, this is barely a horror film. It's a comedic cop movie with supernatural elements. It exudes nineties straight-to-videoness, which can be fine when you are in the mood for that but there are much better ways to spend 80 minutes.
Audience Reviews for Ghoulies IV
Last 'Ghoulies' outing? who knows but the franchise ended on a flat note with this mess that's for sure. I'm not really sure what the plot was all about to be frank, some catsuit clad female is after an amulet to free some big demon fella. Also for some reason two Ghoulies are set loose in 'our' world and cause havoc trying to get back to their own world. The main issue here is of course the fact the Ghoulies have been replaced with little people in shitty looking costumes, gone are the endearing little puppets folks. It wouldn't be so bad but these outfits really do look terrible, their mouths hardly open despite them speaking clearly which sticks out like a sore thumb. Sticks out like really badly designed costumes. The other horrific problem is the quite awful attempt at comedy in this film. The Ghoulies try for a double act with slapstick and tomfoolery which is just dreadful, whilst their voices are provided by some guys trying their best to be hip and Chris Rock it seems. Peter Liapis is back in this film which does offer a little continuity and the only plus point within the film really, the other is Stacie Randall in her amazingly gorgeous tight catsuit hehe. There is one reasonable stunt car sequence involving a reasonable explosion at the end but apart from that this film is cheap dross and brings down the 'Ghoulies' franchise (which wasn't that good in the first place).
Phil Hubbs
Super Reviewer
Ghoulies IV Quotes
There are no approved quotes yet for this movie.