G.I. Joe: Retaliation
(2013)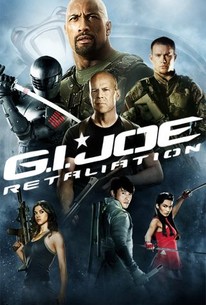 TOMATOMETER
AUDIENCE SCORE
Critic Consensus: Though arguably superior to its predecessor, G.I. Joe: Retaliation is overwhelmed by its nonstop action and too nonsensical and vapid to leave a lasting impression.
G.I. Joe: Retaliation Photos
Movie Info
In this sequel, the G.I. Joes are not only fighting their mortal enemy Cobra; they are forced to contend with threats from within the government that jeopardize their very existence. -- (C) Paramount
Critic Reviews for G.I. Joe: Retaliation
Audience Reviews for G.I. Joe: Retaliation
½
Entertaining but ultimately shallow and forgettable action fare with quite some star power but only few innovative ideas. Still, fans of the toys should have more fun with this than with the first part. Everyone else can probably just shake their heads at all the stereotypes.
½
Originally intended to be released in the summer of 2012, G.I. Joe: Retaliation was pulled back because, presumably, they wanted to convert it to 3D, but many suspected it was to add more time for star Channing Tatum after his box-office domination that year. Well, wrong on both accounts, because maybe it was merely kicked back because, get this, it's not terribly good. I had the lowest possible expectations for the 2009 G.I. Joe movie but came away having a fun time; it was the right kind of enjoyably stupid. Well now it's just stupid. Cobra has kidnapped the president, inserted a doppelganger, and now wants to rule the world that to an evil satellite that drops giant metal rods into space as weapons. Why are these rods not part of the Earth's orbit after release? There are all sorts of gadgets here that make no sense but somebody thought might sell some toys. The central storyline is almost a knockoff of Mission: Impossible: Ghost Protocol, a small group of Joes having to clear their names. Then because that isn't enough material to work with, there's a mini-movie about ninja warriors avenging their fallen master in the mountains, and of all people, the RZA is supplying lengthy exposition. The action sequences are absurd without having enough style to excuse the absurdity. Everyone is a superhuman but also incompetent when the plot demands it (ninjas can shoot flying knives but not a big person jumping off a wall?). Adding The Rock is always a bonus in my book; the man is charisma personified. But the storyline of Retaliation is so sloppy, the villains so lame, and the movie lacks the high-spirited imagination to keep the stupid at bay. I was never a G.I. Joe kid so maybe those with nostalgia will be more charitable than I am, but G.I. Joe: Retaliation is a poorly executed next step for a once-budding franchise. Nate's Grade: C
Nate Zoebl
Super Reviewer
Compared to the first movie, 'G.I. Joe : Retaliation' wasn't meet everybody's expectation of a better sequel.. The death of Duke character at the beginning of the movie, and then the change of the leader into Dwayne Johnson wasn't as smooth as they predicted.. Truthfully, I must say that the scene stealer show is (and still from the the first movie) Byung-hun Lee as Storm Shadow and D.J. Cotrona who made a quite scene stealer performance as Flint.. Overall, I wasn't hope for another sequel of this movie but if Hasbro still want some profit maybe they can make at least another movie of this movie..
Sanjaya 丘耀文
Super Reviewer
G.I. Joe: Retaliation Quotes
| | |
| --- | --- |
| Cobra Commander: | The Cobra Revolution has begun. |
| | |
| --- | --- |
| Cobra Commander: | I want it all! |
| | |
| --- | --- |
| Cobra Commander: | Destro, you're out of the band! |
| | |
| --- | --- |
| Firefly: | Let me see that face! |