Gia
(1998)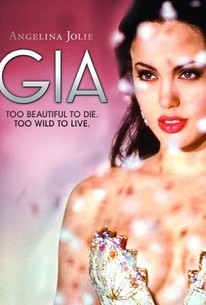 Movie Info
Angelina Jolie (Wallace) has the title role in this biographical drama tracing the tragic rise to fame and death, at age 26, of insecure, self-destructive supermodel Gia Carangi, who grew up in Philadelphia a victim of child abuse, moved to New York to work as a model in 1977, scored big as a top-ranked cover girl under the tutelage of Wilhemina Cooper (Faye Dunaway), and burned brightly, before pills, coke, and heroin turned her life into a junkie hell. Music of the period includes Billy Joel, David Bowie, and the Pretenders. Filmed in NYC and LA, this feature premiered January 31, 1998 on HBO.
Audience Reviews for Gia
Well made film on the supermodel Gia Carangi. Well acted by Angelina Jolie, this film is the tragic story of one of America's first supermodels. The film is a good drama film. The cast here are good and they all deliver solid performances. The film could have been a lot better, and I find that there were a few scenes where the material didn't work. However due to the good cast, it makes this film that much more interesting despite the lack of effective material. The film is good for what it is, the performances saves this film from being an utter failure. Like I said, it could have been a stunning film with a great story, but there's just something missing from it to truly make it stand out, and make it a memorable biopic. Considering the life that Gia had, you'd expect something great with this film. There's something missing from the films plot to really make it stand out, and it's a good film, but never anything great. If you're looking for one of Angelina Jolie's better performances, this film is it. For a biopic, Gia is one that could have been a lot better, but in any case, is good to watch. Don't expect anything great with this one. Expect a good film that should have been better. If it wasn't for the cast, I think this film would certainly have failed. This is one of those biopics that should have turned out better than it actually did. Still worth watching for one of Angelina Jolie's better performances.
½
Not a story I expected to find fascinating and yet this true story of Gia, the first Super Model, a diva, drug addict and true wild child made for an interesting tale. A short life, that covered so much. Also one of Angelina Jolie's earlier films, which is refreshing because it's back when she wasn't such a diva herself and a much more natural fiesty Actress.
Lady D'arbanville
Super Reviewer
One of Angelina Jolie's first performances and still one of her best. It is such a tragic story, but mainly due to the fact that you completely fall in love with Gia. The downfall is so sad to watch and highly effective. A great biopic and one of the best made-for-tv movies ever.
Conner Rainwater
Super Reviewer
Gia Quotes
| | |
| --- | --- |
| Gia: | Life and death. Energy and peace. If I stopped today, it was still worth it. Even the terrible mistakes that I have made and would have unmade, if I could. The pain that have burned me and scarred my soul. It was worth it for having been allowed to walk where I've walked, which was to hell on earth, heaven on earth, back again, into, under, far in between, though it, in it and above. |
| | |
| --- | --- |
| Gia: | Look, this was a free trip to New York. And if I knew you were looking for Marsha fucking Brady, I would have stayed home. |
| | |
| --- | --- |
| Linda: | Linda: I'm checking to see if you need to be tweezed. |
| Linda: | I'm checking to see if you need to be tweezed. |
| Gia: | Gia Carangi: I'm tweezed. |
| Gia: | I'm tweezed. |
| Linda: | Linda: I'm Linda. |
| Linda: | I'm Linda. |
| | |
| --- | --- |
| Gia: | Life and death, energy and peace. If I stop today it was still worth it. Even the terrible mistakes that I made and would have unmade if I could. The pains that have burned me and scarred my soul, it was worth it, for having been allowed to walk where I've walked, which was to hell on earth, heaven on earth, back again, into, under, far in between, through it, in it, and above. |