Gideon's Daughter
(2005)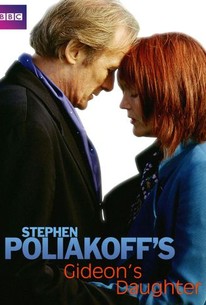 AUDIENCE SCORE
Critic Consensus: No consensus yet.
Movie Info
U.K. writer/director Stephen Poliakoff -- the cinematic artist responsible for the critically acclaimed favorites The Lost Prince (2003) and Friends and Crocodiles -- guides an all-star British cast including two-time Academy Award-nominee Miranda Richardson (Damage, Tom & Viv), Bill Nighy (Love Actually), and Poliakoff regular Robert Lindsay (Bert Rigby, You're a Fool), in his latest feature, Gideon's Daughter (2006). Reprising the Sneath character that he brought to life in Crocodiles, Lindsay narrates this tale set at the tail end of the millennium. It concerns Gideon Warner (Nighy), a British public-relations whiz who hits the top of his game as politicos, entrepreneurs, and young actresses seek him out for new campaigns. On the business front, Warner has become the man to know, but his personal life begins to stand in the way of his corporate success. His daughter, Natasha (Emily Blunt), grows increasingly furious with him, and he falls in love with Stella (Richardson), a mother recently bereft of her son. Poliakoff planned this sensitive and poignant drama as a companion piece to Friends and Crocodiles, as both films reflect on British society as the curtain falls on the 20th century. ~ Nathan Southern, Rovi
Critic Reviews for Gideon's Daughter
Audience Reviews for Gideon's Daughter
"Gideon's Daughter" starts with middle-aged Sneath(Robert Lindsay) in his pajama bottoms welcoming Becca(Samantha Whittaker), a typist, into his apartment so he can transcribe a story that begins on a rainy night in 1997 on a red carpet. Gideon Warner(Bill Nighy) is so huge in public relations that he can send out Andrew(Tom Hardy) to work the floor for him. But not so above it all that he cannot settle a dispute between Dent(Tom Goodman-Hill), an M.P, and a distraught couple(Miranda Richardson & David Westhead). Plus, he also finds the time to watch his daughter Natasha's(Emily Blunt) senior recital which unsettles him so much that he starts pricing family psychologists... "Gideon's Daughter" is an odd one. Not in a weird way and it has nothing to do with Tom Hardy playing a non-violent character, either. No, it is a movie that cannot truly decide what kind of movie it wants to be, leading it to head in two equally opposite directions at once. On the one hand, all of the major characters are dealing with some kind of loss in their lives, with a national mourning serving as the background. And for some that might also belong in the arena of ridiculousness(along with the Millenium Dome) that was established in its framing sequence. That's not to mention an emotional climax that is more quirky than anything resembling heartfelt.
I came for Bill Nighy; I stayed for Emily Blunt. About fifteen minutes into the film, Blunt's character sings a song, "Papa," that captivates everyone - the audience on screen, including her father, and the film's audience (and if anyone in the internet ether can get me an MP3 of this song, I'd be grateful). The song is stunningly beautiful in its melody, lyrics, and mysteriousness. Even at the end of the film, we're not entirely sure what she meant or even if she meant anything at all, but the memory of that performance propels the film along. It is the story of a British PR man who has lost interest in his work and lost the ability to connect with his daughter, the only person with whom he desires any relationship. The film is essentially a character study, but it rises above a mere presentation of people to an area of profundity that can only be compared to An Accidental Tourist. It becomes about parents and children, the pain of letting go after life and death advance and the stark, unfortunate realization that children will never love their parents as much as parents love their children. With strong, understated performances by Nighy and Miranda Richardson, Gideon's Daughter is a gem not to be missed.
Jim Hunter
Super Reviewer
½
Terrific story of loss, obsessive love, letting go, and starting over. Marvelous acting and a great script made this a real slice of life. Miranda Richardson plays Stella, a woman who lost her young son in a tragic accident, and she has never looked more beautiful. She demostrates the difference between a British actor and an American star. The actor does not hide nor try to reverse the effects of the aging process, while their American counterpart tries to hang on to youth at all costs. She may be older, but her beauty radiates from within. She was totally believable as the woman trying to cope with an unimaginable loss. Bill Nighy, was Gideon, a very successful PR man, sought after by the rich and powerful, who finds himself unexplicably drawn to working-class Stella. Meanwhile, he feels he is losing his daughter, Natasha, played by the gorgeous Emily Blount, as she finishes her A levels (high school) and prepares to move on to the next stage of her life. The struggle between the young woman trying to establish her independence and the father who has already lost his wife and fears losing his daughter as well brought a heightened level of angst into the mix. The only thing that kept this viewer from giving it five stars is the annoying way that the story is narrated by an author to an amanuensis. (Do they use them anymore, really?) The why of that device is explained in the closing frames, but left this viewer unsatisfied. It seems it would have been a stronger tale if told more directly. But, definitely, time well spent.
Mark Abell
Super Reviewer
Gideon's Daughter Quotes
There are no approved quotes yet for this movie.