Gidget
(1959)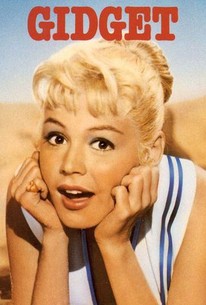 Movie Info
The sun drenched beach is the setting for Gidget, a comedy about a teen aged girl and her youthful companions. Gidget (Sandra Dee) feels the first awakenings of being attracted to boys as she and her friends frolic all summer. She falls for Moondoggy (James Darren) who surfs all day and dances all night. They spend a romantic summer before the fall brings on the inevitable responsibilities of impending adulthood.
Critic Reviews for Gidget
Audience Reviews for Gidget
A very innocent and cute film. I'm not a surfer nor do I want to be so theirs not much I can say about this one. Except for how good it was in every aspect of film making. The writing was okay. Their was nothing special or something that would stick in your head. The story itself is a good one. It's mostly about acceptance and coming of age. So if your a young girl that likes to surf, watch this. It would probably be one of your favorites. The directing was not special. It was okay, it did a good job on capturing the visual beauty of the ocean but that's about it. The acting was decent. Once again, nothing too special but it's not like the acting had you crying. Their was a real cuteness to the acting style present in this film. The production values have to be the best part. Very well put together. Overall, this film is visually beautiful with a cuteness atmosphere. You could literally catch some waves on it. I would recommend this film to people that like stunning classics.
Eduardo Tobias
Super Reviewer
This movie was the beginning of the surfing movie trend of the 60s, I think, and a classic teen film. It's not a great movie, but I liked it anyway.
a real bit of you-had-to-have-been-there americana...the earnest yet perky late sandra dee (doris day, only younger), old school hunky-w/o-the-steroids james darren, and cliff robertson as the big kahuna (yep, this is where that expression enters the american lexicon, baby!), together again for the first time in the 1960's first coming of age beach story starring and starting america's dream infatuation with the girl/midget
Kevin M. Williams
Super Reviewer
Gidget Quotes
There are no approved quotes yet for this movie.