Gigli
(2003)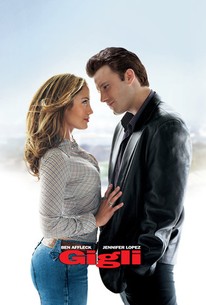 Movie Info
Larry Gigli, a lowly hit man in Los Angeles, who is looking to finally score big, lands the perfect "job"--or so he thinks. He is assigned to kidnap Brian, the psychologically challenged younger brother of a powerful federal prosecutor, in order to save his mobster boss from incarceration. Holed-up in his one-bedroom apartment with his kidnap victim Brian, Gigli starts to realize that what he thought would be a routine assignment has become a daunting and unwieldy task. Ricki, a beautiful, independent-minded female gangster, is sent to assist Gigli with the kidnapping--as his boss doesn't have faith that Gigli can carry out the job on his own. But when his feelings for the elusive Ricki begin to grow, and he becomes genuinely concerned for the vulnerable Brian, tough guy Gigli begins to trade in his tough exterior, for a more human, sensitive one--and considering his profession, that could be quite a dangerous path to follow.
News & Interviews for Gigli
Audience Reviews for Gigli
It is not one of the worst movies ever made like many people say, but it is interminable, structurally messy and the dialogue can be hideous sometimes, with the biggest problem being Lopez's complete lack of charisma and nonexistent chemistry with Affleck.
Carlos Magalhães
Super Reviewer
½
Life doesn't play by the rules. Mediocre movie! Overall this is not the `worst film ever made', those who tell you that have clearly have a limited viewing experience; many of the reviews were made harsher by the back lash against the whole Bennifer thing. However that's not to say they are wrong - only overly harsh. The film is poorly judged in almost every aspect and is too hard to enjoy as a result. Has about 3 good moments in it, but it is an overwhelming shambles. Gigli, a lowly and inept hitman, is assigned a job by the mob to kidnap a mentally retarded brother of a California district attorney. Gigli abducts the brother from his mental hospital and holds him hostage in his apartment. Ricki, a "lesbian assassin", is sent to oversee Gigli's job and make sure he doesn't screw it up. Comedic high jinks ensue as the two go on the lam and start to fall in love.
When Conan O'Brien just has to say the name of your movie to get a big laugh in his opening monologue every night for two months, you know you've screwed up. It was for that exact reason that I set out to watch this flop for the first time since it came out, ten long years ago, and it was so much worse than I could have expected. Usually films that are bad, and feature big stars, at least have a gimmick, maybe some off-color jokes, or have a bloated budget, but there's no reason for this unmitigated tripe. There is no budget, the script is atrocious, and the characters are either one sided, conceited, or plain dumb. The premise alone is staggeringly awful: a very low level mobster (Ben Affleck a gangster? Really?) has to kidnap the brother of a federal prosecutor, who happens to be mentally challenged. That alone should stop you if you are reading the script. He does so with minimal effort, which is strange, because you would think there would be a lot of security for someone so vulnerable. Then waltzes in the other lead, Jennifer Lopez, as a hired gun, who happens to be a lesbian. I will say that at least they represent her as someone who deals with the traps and tribulations of relationships and comes out the other side the same as any hetero, when speaking about her relationship with another woman. Still, her sexuality, which is dealt with right off the bat, is pivoted once she starts hanging around Affleck's character. The mentally challenged character is also handled poorly, as he oftentimes rings his hands wildly and asks to go meet girls at the "Baywatch" time and again. Justin Bartha is in this role, and it baffles me that it doesn't follow him around the same way the others have suffered for this flop. There are some brief cameos from Christopher Walken and Al Pacino that are twenty times more entertaining, but most of this film concerns this strange love story between the goon and the lesbian. They barely leave the apartment, talk to anyone, or do much of anything (if cutting a dead guy's thumb off doesn't count). Most of that doesn't even matter, because the background score for this film is so loud and obnoxious you can't hear the actor's voices over it, which makes this feel as cheap and sleazy as the rest of the movie. It's so pathetically contrived and icky at all times, and not one person can justify to me why this film needed to be made.
Spencer S.
Super Reviewer
Gigli Quotes
| | |
| --- | --- |
| Larry Gigli: | In every relationship there's a bull and a cow, and it just so happens that in this relationship I'm the bull and you're the cow! bull! cow! |
| | |
| --- | --- |
| Det. Stanley Jacobellis: | Man, you know what I'd love to do, right now? Go down to Marie Callender's, get me a big bowl, pie, some ice cream on it, mmm-hmm good! Put some on your head! Your tongue would slap your brains out trying to get to it! INTERESTED? SURE? |