Gilda
(1946)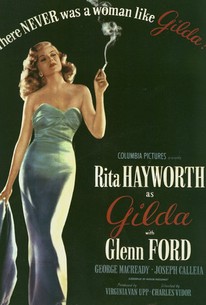 TOMATOMETER
AUDIENCE SCORE
Critic Consensus: Rita Hayworth carries Gilda on the sheer strength of her screen presence, rendering the film's somewhat middling story almost irrelevant.
Movie Info
In this film noir, Rita Hayworth stars as the sexy wife of crippled casino owner George Macready. She is also the former love of gambler Glenn Ford, who takes a job in Macready's Buenos Aires casino. Macready goes out of his way to throw the two of them together.
News & Interviews for Gilda
Audience Reviews for Gilda
½
It is easy to just enjoy the gorgeous sight of Rita Hayworth exhaling beauty and sensuality, but let's not overlook how stupid, implausible and misogynist this film really is, painting Gilda as a mischievous femme fatale when in fact she is a victim in the hands of two hideous men.
Carlos Magalhães
Super Reviewer
Post-war greed, tempting women, and dark souls collide in the seductive Gilda. In a world ablaze in celebration, director Charles Vidor suggests that even amid all of the gaiety, exists a group whose tortured existence is ruled by deceit. Men and women, looking to forget their past misfortunes, begin to amass new fortunes at the expense of others. Even strangers in the street allude to the fact that they are becoming immune to human compassion. The man in this particular tale is Johnny Farrell, played by the always excellent Glenn Ford. Farrell, a man who likes to think that he "makes his own luck", spends his days narrowly escaping one quagmire after another, only to find himself hastily picking up the scent of the next big score. During his ascendancy in a cartel under the partronage of Ballin Mundson, his world is turned upside down by the dazzling and vivacious Gilda, played by Rita Hayworth, who happens to be Mundson's newly betrothed. While both men previously acknowledge that women and gambling don't mix, they both cannot seem to ignore this high stakes game. As soon as Rita Hayworth flips her hair back, you know she is trouble. She just oozes sexuality and I even found myself lured in by all of her celebrated, albeit achromatic, features. Farrell's contempt for Gilda is twofold. First off, he doesn't like her because it is revealed that they have a torrid history together. Secondly, and of prime importance in my opinion, Farrell sees too much of himself in her. Jumping from opportunity to opportunity, looking for the next path to fortune, Gilda is a manifestation of Farrell's ethos. Which draws both Farrell's fascination and ire. In one of their more passionate exchanges, Farrell accuses of Gilda of using Mundson for personal gain, to which she responds "That wouldn't be the big pot calling the little kettle black, now would it?" They develop a deeply passionate love/hate relationship that brilliantly taps into the duality of a post-war mind. Vigor accents these themes with his use of shadows. Often Gilda and Jonny are cloaked in darkness. If they do happen to be seen in the light, their shadow is sure to be close by, prowling in the background. In one outstanding scene, when Jonny and Gilda appear to have been found out by Mundson, Vidor frames the shot so the cuckold is close to the camera, a large shadow looming in judgment over the accused. In the same shot, Gilda walks to the back of the frame before addressing her husband, drenching herself in darkness. Vidor's visual language gives a whole other meaning to the term "shady people." It is not a perfect story. In fact, I found the ending to be rather slapdash and saccharine. Yet, it is quite an entertaining sexually charged noir. If nothing else, it will help you better understand what had all of the men gawking in "The Shawshank Redemption. "
½
The camera was in love with Rita Hayworth and she made sure we noticed it. One of the best noirs out there with probably the most strange case of a mènage a trois ever seen in a Hollywood pic.
Matheus Carvalho
Super Reviewer
Gilda Quotes
| | |
| --- | --- |
| Ballin Mundson: | Gilda, are you decent? |
| Gilda Mundson: | Me? [long pause] Sure. I'm decent |
| | |
| --- | --- |
| Ballin Mundson: | You'd be surprised to hear a woman sing in my house |
| Ballin Mundson: | You'd be surprised to hear a woman sing in my house. |
| | |
| --- | --- |
| Gilda Mundson: | I danced in America |
| Gilda Mundson: | I danced in America. |
| Capt. Delgado: | This is not America? |
| Gilda Mundson: | I mean New York |
| Gilda Mundson: | I mean New York. |