Gimme Shelter
(2014)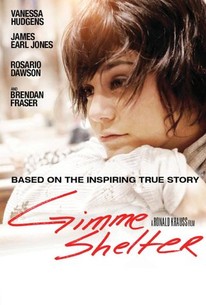 TOMATOMETER
AUDIENCE SCORE
Critic Consensus: In spite of its obvious good intentions -- and the compelling true story that inspired it -- the heavy-handed Gimme Shelter can't overcome its cliche-riddled script.
Movie Info
Based on a true story that centers on 16-year-old Agnes "Apple" Bailey (Vanessa Hudgens), Gimme Shelter uncovers the struggle for survival and the hope of redemption through the harsh realities of life on the streets. As a pregnant teenager, Apple's journey plummets her into a perilous struggle until finding salvation in a suburban shelter for homeless teens. With provisions of unprecedented comfort, a collective sisterhood connection and female empowerment, the shelter elevates Apple to break the shackles of her past and inspires her to embrace the future with clarity, maturity and hope not only for herself but her unborn child. (C) Roadside Attractions
News & Interviews for Gimme Shelter
Critic Reviews for Gimme Shelter
Audience Reviews for Gimme Shelter
½
Yeah, you know it's going to happen, so... "War, children, it's just a shot away, it's just a shot away!" Okay, maybe that didn't have to be done, because this film somehow managed to make it out without playing that song, which is surprising, because in most every other way, this film cheapens out to where you would expect it to go. Okay, this film is reasonably engaging, but I'm one of the few people who will tell you that, so as if James Earl Jones didn't look desparate enough when he was on "The Big Bang Theory" as himself, managing to annoy Sheldon with his ramblings about "Star Wars", just wait until you see his big film comeback through a January indie drama starring Vanessa Hudgens that no one else is going to see. Man, forget "High School Musical", "Sucker Punch", "Machete Kills" and, yes, even "Beastly", for her presence mostly scares me because it brings to mind her last "art" drama, "Spring Breakers". Yeah, as if that's not unnerving enough, this film also features Brendan Fraser in a desperate attempt to save his career, and may only feature Rosario Dawson in an equally desperate attempt to convince people that she's not actually black by featuring Hudgens as her daughter (Well, Afro-Cuban, but that isn't purebred). That really is desperate, because it would be borderline farfetched to believe that it would be a teen pregnancy, let alone a tween pregnancy. Oh, we're busting out the "tween" word, but no, this film is much less commercialized than that, at least enough to have some heart to get it by, through all of its shortcomings. Underdeveloped out of the gate, the film wastes no time in showing our lead on the run, from a broken-down home we know hardly anything about, to a warm home we know hardly anything about, and after that, storytelling still has the nerve to place little attention into fleshing out a narrative which is conceptually driven by characterization, beyond forced exposition, that is. The film doesn't make the time to get as extensive as it could have with its exposition, yet it does still find the time to drag its feet, with expendable, or at least overdrawn material which results in an unevenness to pacing that is bland enough, without overly steady spells to Ron Krauss' direction which intensity the blandness to the point of dullness at times. The film is very indie in its under-controlled structure, to where uneven pacing begets an unevenness to the focus of this segmented character study, and the typical is very much far from ending there, as Krauss' script goes, as the Rotten Tomatoes put it, "riddled" with clichés, with stereotypes to what characterization there is, conventions to the dialogue, and, of course, formula to a dramatic narrative, complete with melodramatics. Although based on a true story that is already one of many of this nature, this plot feels manufactured with its conflicts and character motivation, its sense of genuineness shaken by a surprising amount of safeness in this very PG-13 and therefore relatively neutered portrayal of worthy subject matter of considerable grit. Either Krauss' writing is too subtle to be biting, or too contrived to even convince in concept, as when it comes to his directorial execution, the subtlety issues continue, reflected in, say, overdone visuals of dramatic and thematic purposes (I don't figure they have a great dental plan in the slums, but it appears that Rosario Dawson has some corn in her teeth, as in every single tooth), and even more overdone plays on tone which tend to fall to sentimentality. It is ultimately ambition that gets this film by and holds it back at the same time, as its intentions are so sound that they cannot suppress the many issues in structure, freshness and subtlety which ultimately secure the final product as kind of forgettable. Still, for every blow placed to the engagement value of this drama, there is a genuinely memorable, perhaps even compelling touch to do a degree of justice to valuable subject matter. This type of subject matter has been extensively explore time and time again, in real life, and in film, where it has often been done a greater deal of justice, but that doesn't make the thematic value any less significant, as this tale on a young woman seeking concern, faith and, of course, shelter from a troubled past she can no longer take when she comes to find that there is a new life she must care for is very important and thought-provoking. At the very least, there is a lot of dramatic weight here, but whether you focus on this plot's thematic value or dramatic value, there is a potential for Ron Krauss to mishandle, but not consistently. Krauss' efforts as both writer and director are fairly after-school special in their developmental and tonal superficialities, and very indie in their formulaic and uneven structuring of this narrative, but ambition does lead to inspiration at times, at least in a direction that finds times of actual thoughtfulness to soak in the heart of this melodrama and resonate, if only slightly. Krauss has his fair share of engaging moments to endear through missteps that, quite frankly, aren't even especially aggravating, but the highlights in Krauss' efforts aren't too much more glaring, and beyond them, there's not much to praise, beyond performances that do admittedly set a standard of praise-worthiness. Whether it be James Earl Jones, or Brendan Frasier, or Ann Dowd, there are a couple underused supporting performances that endear with convincingness that is greater than the characterization behind their roles itself, but it's Rosario Dawson's performance which truly shines in the supporting cast, for although Dawson is unevenly used and underwritten, a remarkable range of startling intensity and overwhelming emotional distraught sells the role of a deeply disturbed woman whose genuineness as a seemingly loving, but also abusive and seemingly selfish mother is utterly unpredictable. Dawson is a powerhouse when she steps onto the screen, despite limitations in material, but honestly, she's not the true surprise of the film, for time and again, Vanessa Hudgens has proved herself to be a well-intentioned, but ultimately weaker actress who might not have the tastes or the talent to earn the respect she craves, so one can only imagine the magnitude of the boast that if this film is to be seen for no other reason, then it is for Hudgens lead performance, which is held way, way back by material of little dynamicity, but still thrives on Hudgens' immersion into the role of a troubled youth seeking concern and a new life through transformative commitment to looking the part, and equal commitment to the projection of heavy emotions. Hudgens really does carry the film, and I really wasn't expecting that, even though most every other issue I expected it found, though not in such great quantity that the final product collapses, supported by enough inspiration to endear, even if it doesn't prove to be quite as memorable as it could have. In the end, structural unevenness underdevelops too many aspects and drags out too many others, while melodramatics, safeness and other subtlety issues thin momentum to the point of decisive underwhelmingness that could have seen forgettability if it wasn't for the subject matter value, directorial highlights and strong performances - the strongest of which being by the show-stealing Rosario Dawson and the revelatory Vanessa Hudgens - that make Ron Krauss' "Gimme Shelter" a charming and often resonant, if rather lacking study on a girl's struggle to find love and a place to stand as her own woman. 2.5/5 - Fair
Cameron Johnson
Super Reviewer
This drama written and directed by Ron Krauss was based on true events and could be taken as an inspirational film for most viewers. Starring Vanessa Hudgens wasn't a bad choice for majority of the scenes, except the emotional ones where crying was involved! She was terrible in those. Nothing special in this predictable story of redemption that happens like through fast forward, and you won't have time to even sympathize with the girl who only seems to be in peril briefly - bailed out very quickly by her rich dad. Yes, we could try to be drawn to the hardship of Apple, a pierced, pregnant teenager who flees her volatile, drugged-out mother (brilliantly terrifying Rosario Dawson). She manages to track her father she's never met (Brendan Fraser) who as a scared teenager, abandoned her. Of course, now he works on Wall Street, married with a sceptical wife and two kids of his own... but he's willing to take her in and help her - under a condition that she terminates her pregnancy... Writer/director Ron Krauss will manage to take us through the film with some unnecessary steps to the shelter, where Apple must learn trust and cooperation to function as part of a loving if unconventional family. I already said few words regarding the acting of Vanessa Hudgens and Rosario Dawson, and for Brendan Fraser nothing good this time - too bland and boring... not far from the priest acted by James Earl Jones. If you can disregard the acting, directing and writing, maybe you will find something of interest in it! Cheers...
Sometimes you have to leave home to find your family. Good Indie Film! Even though a low budget film, Vanessa Hudgens is stunning on her performance as Apple. She proves that she has completely left her amateur puppy Disney High School Musical acting and moved on to bigger future roles that will certainly give her a lot of career options. Gimme shelter, in general, is an indie film that captures all the phases of a difficult life in the streets of a city. Maybe a little bit of 8 Mile or Precious, Gimme shelter reminds a bit of these films, but the motion picture still keeps its originality of story and of course performances. 16 year old street-wise Apple (Vanessa Hudgens) has never had an easy life. Her mother, June Bailey (Rosario Dawson), is an addict and prostitute, is verbally and physically abusive, and is grooming her daughter to follow in her footsteps. Apple knows the streets, alleys and motels like the back of her hand but wants more from her life. She possesses a tenacious, tough, indomitable spirit, and will not surrender to fate. Apple runs away from her mother and tracks down her father whom she has never known, as he was only 19 when he got Apple's mother pregnant. Apple begs her now Wall Street Broker father, Tom Fitzpatrick (Brendan Fraser), to take her in. In the few days under her father's care, she learns she's become pregnant by a kid from the streets she met on the train, who now wants nothing to do with her. She is forced to leave her father's home because of her choice to give birth to the baby she is carrying. Apple runs away again, and is eventually taken under the wing of Father McCarthy (James Earl Jones), the chaplain of the local hospital after almost getting herself killed. He offers to let Apple live at a shelter for pregnant young women run by a spiritual woman named Kathy (Ann Dowd). It is here that Apple begins to tentatively interact with the other girls who are in the same predicament as she and gradually begins to make a family for herself.
Gimme Shelter Quotes
There are no approved quotes yet for this movie.