The Gingerdead Man
(2005)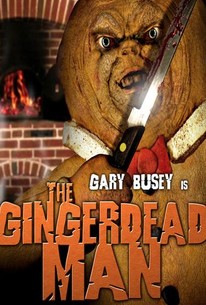 AUDIENCE SCORE
Critic Consensus: No consensus yet.
The Gingerdead Man Photos
Movie Info
A deranged psychopath returns from the grave in the form of a delicious but deadly treat in B-movie specialist Charles Band's bloody tale of baked goods gone bad. When psychotic killer Millard Findlemeyer (Gary Busey) entered a small-town diner and rained a shower of lead upon the Leigh family, the only family member to survive the horrifying ordeal was devoted daughter Sara Leigh (Robin Sydney). It was Sara's heartfelt testimony that sent Findlemeyer to fry in the electric chair, and also caused the killer's vengeful mother to cook up a diabolical plot for the ultimate revenge. After placing an ancient curse on her son's ashes, Mrs. Findlemeyer mixes the remains into a secret gingerbread cookie recipe and has the malicious mix sent to Sara Leigh's bakery. When bakery employee Brick Fields (Jonathon Chase) cuts himself while preparing the cookies and a drop of his blood spills into the mix, a twelve-inch tall terror emerges from the oven determined to finish the job that he failed to complete the first time around. ~ Jason Buchanan, Rovi
Critic Reviews for The Gingerdead Man
Audience Reviews for The Gingerdead Man
Six words: Gary Busey is the Gingerdead Man. Picture it: Busey dressed up in a gingerbread man costume, hacking, slashing and making pastry-based puns along the way. You can't imagine the amount of money we would have paid to see that. Actually, you probably could have imagined it (it's less than a dollar). That's just the beginning of this bore fest. Well Gary Busey is the Gingerdead Man, kind of. Gary only appears in the movie's first five minutes as the world's worst robber: He enters a diner, riffles through the cash register but takes no money, shoots people instead, gets caught and, in the end, is sent to the electric chair. So what we get from then on is a very, very describable awful puppet voiced by Gary Busey. Apparently the stories get worse, somehow, for some reason his mom bakes his cremated remains and thous you have the perfect recipe for the worst horror monster ever baked. As you can guess by the title, yeah it not horrifying at all. Heck, it's badness it not even enjoyable at all. The most pathetic attempt to make pastry scary ever. I mean even when the gingerbread man has a rifle (you read that right) it's that unconvincing. I thought about giving this a 10% percent, that was until the ending when the main hero eats the gingerbread man and than says, "Got Milk". I'm not making this stuff up, you can type it in YouTube. Stay away from this, it doesn't fit in the so bad it's good category. This horror movie brings the horror in horrifyingly bad movie.
Caesar Mendez
Super Reviewer
I didn't think it was possible for an hour-long movie to drag this much.
Jonathan Hutchings
Super Reviewer
½
Gary Bussey has played a lot of B Movie Parts and though his Cameo was short lived in this flix, he was great. I thought that its was a Funny Slasser Flix, Robin Sidney is the Bomb. If I find it used it goes in the colllection.
Bruce Bruce
Super Reviewer
The Gingerdead Man Quotes
| | |
| --- | --- |
| Millard Findlemeyer: | Awww, ain't that sweet? I see a sappy love story brewing. Baby, it's all over but the crying. |