Ginger Snaps
(2001)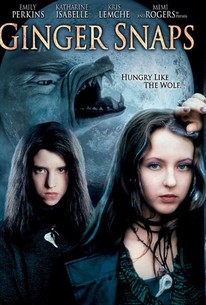 TOMATOMETER
AUDIENCE SCORE
Critic Consensus: The strong female cast and biting satire of teenage life makes Ginger Snaps far more memorable than your average werewolf movie -- or teen flick.
Movie Info
In this modern werewolf tale, sisters Ginger and Brigitte are ostracized by their town because of their morbid inclinations. Soon after being attacked by a wolf, Ginger begins to exhibit strange nocturnal behavior. Now Brigitte must decide whether to save herself or join Ginger in otherworldly doings.
Critic Reviews for Ginger Snaps
Audience Reviews for Ginger Snaps
What begins as a clever satire that uses lycanthropy as a witty metaphor for puberty soon gets sadly derailed in a disappointing development in which it seems to go awry and lose its way (mainly its thematic focus) into mere gore and violence (though I do like how it ends).
Carlos Magalhães
Super Reviewer
"Ginger Snaps" is one of the first films that I have seen that glamourizes and sexualizes the lore of the lycan. The film stars horror staples Katharine Isabelle and Emily Perkins as sisters in a quaint suburb that is being terrorized by a beastly wolf. One of the sisters is attacked by the animal and starts exhibiting strange signs: she gets her period late in life, she changes appearance, and her behavior veers towards sexual, she wants for bloodlust, and she starts growing long thick hair over her entire body. Katharine Isabelle has since become a horror icon, and in this, her most memorable role, she shines as the confused, sex-driven werewolf in conversion. She and her slightly younger sister (Perkins) are also obsessed with death and all its hideousness, which makes the characters that much more complex and grim. There's a lot of blood and gore throughout the film, but most of the "horror" lies in the transformation of Isabelle's character from girl to lycan. If you enjoy slightly exploitative forms of horror, with serious monster makeup, this is definitely the film for you.
Spencer S.
Super Reviewer
[img]http://images.rottentomatoes.com/images/user/icons/icon14.gif[/img] There's a lot of reasons why this film is more memorable than other teen horror movies. For one thing, everything in Ginger Snaps is kept consistent including, the frights, the irony and the belly aching laughs. The lead duo give it all they've got and that's rarely seen in this type of movie. Backed up with a decent script, an array of likable and real characters and a cleverly built in social commentary, Ginger Snaps suceeds beyond all other films with this over used premise. I'm really surprised this one was forgotten, because it's damn well the coolest one out there.
Directors Cat
Super Reviewer
Ginger Snaps Quotes
| | |
| --- | --- |
| Pamela: | Jesus Christ on a bicycle! |
| | |
| --- | --- |
| Ginger: | I said I'd die for you! |
| Brigitte: | No. You said you'd die with me. Cause you had nothing better to do. |
| | |
| --- | --- |
| Brigitte: | Are you *sure* it's just cramps? |
| Brigitte: | Are you sure it's just cramps? |
| Ginger: | Just so you know... the words "just" and "cramps," they don't go together. |
| Ginger: | Just so you know, the words 'just' and 'cramps,' they don't go together. |
| | |
| --- | --- |
| Ginger: | A girl can only be a slut, a bitch, a tease, or the virgin next door. |