Ginger Snaps II: Unleashed
(2004)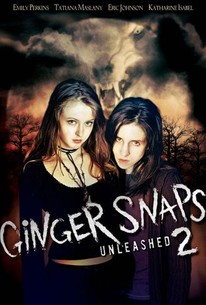 Ginger Snaps II: Unleashed Photos
Movie Info
The feminist horror film genre might not have very many prominent entries, but the critically acclaimed 2000 film Ginger Snaps was just that. A darkly humorous chiller that drew parallels between menstruation and a werewolf curse, the John Fawcett picture garnered several Canadian Genie Award nominations and a loyal cult following. Four years later, Brett Sullivan, the film's editor, made his feature directorial debut with this sequel, Ginger Snaps 2: Unleashed. Katharine Isabelle and Emily Perkins reprise their roles from the first film as sisters Ginger and Brigitte, respectively. This time around, Brigitte is found by the police after being attacked and taken to rehab when it's assumed that the wolfbane serum that keeps her from turning into a monster is a narcotic. Once inside the facility and denied the substance, Brigitte must strike deals with one of the orderlies to obtain it; meanwhile, she is pursued by another werewolf, and escapes with Ghost, another female patient, to that girl's vacant old house, which sets the stage for a brutal showdown -- made even nastier when the orderly, a hospital doctor, and the elderly Barbara show up and decide to intervene. Also starring Tatiana Maslany, Ginger Snaps 2: Unleashed was followed only a few months later by Ginger Snaps Back.
Critic Reviews for Ginger Snaps II: Unleashed
Audience Reviews for Ginger Snaps II: Unleashed
½
16\07\2010 (ONLINE) An incredible sequel and definitely a much better film, story and performance. These characters are stunning and this is what sequels should be like, better than the last! This one is going in my favorites.
EightThirty .
Super Reviewer
Ginger Snaps 2 was weird but enjoyable.
½
This is the only sequel I have seen that could be considered an improvement on its original. I'm a great Fan of Ginger Snaps and was really excited about this film when i first heard about it, unfortunately when it arrived at the cinema I was to young to see it. I'm sure its always a gamble for people and film fans alike to buy movies on Tapoe/DVD with out viewing them first and for me this was a first. It was well worth the risk of my cash as I loved the film, the casting was especially good this time around ( the DVD showing the auditions in all their glory ) As far as the films go Emily Perkins takes her original part and runs with it, totally convincing the audience that she is trying to break away from her sister and the ghosts of the past. The special effects and make up are of course grander this time around which enhances the horror side of things, but I my self view this more as a Drama that a Horror film. The suspense is really edgy and makes you want to fast forward to the next scene to see what happens next. As well as the stand allow story of Briditte's new company 'Ghost' making you want more as the plot continues. Even as a sequel this is a hard one to beat. I whole heartedly will you to see it, even if you have not yet view the first one.
Cassandra Maples
Super Reviewer
Ginger Snaps II: Unleashed Quotes
| | |
| --- | --- |
| Ginger Fitzgerald: | We can't fight what's in us, B. |
| Brigitte Fitzgerald: | I'm not like you Ginger, I'm stronger. |
| Ginger Fitzgerald: | Oh really? That's not how I remember the first fifteen years of your life. |
| Brigitte Fitzgerald: | It's how I remember the last fifteen minutes of yours. |
| | |
| --- | --- |
| Ginger Fitzgerald: | Remember that game we used to play when we were little? The one where we would make ourselves hold our breath until we passed out? Then you'd always get scared and call Mom and I'd get in to trouble? That game really sucked. |
| Ginger Fitzgerald: | Remember that game we used to play when we were little? The one where we would make ourselves hold our breath until we passed out? Then you'd always get scared and call Mom and I'd get in trouble? That game really sucked. |