The Gingerbread Man
(1997)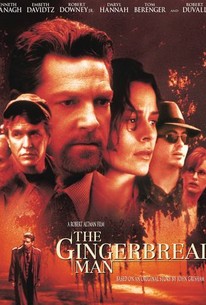 The Gingerbread Man Photos
Movie Info
Robert Altman directed this John Grisham tale that begins at a party where Savannah attorney Rick Magruder (Kenneth Branagh) celebrates his successful defense of a man who shot a local cop. The partygoers include his ex-wife Leeanne (Famke Janssen), the mother of his two children; his law partner Lois Harlan (Daryl Hannah); and caterer Mallory Doss (Embeth Davidtz). After Mallory finds her car stolen, Rick gives her a ride home where things turn sexual. Attracted to Mallory, he learns that her crazed father Dixon Doss (Robert Duvall) has been threatening her. Getting too closely involved with this woman he hardly knows, Rick has the police round up her unstable father, and he next subpoenas her ex-husband Pete (Tom Berenger) to testify against Dixon, who is institutionalized. The crazed Dixon manages to escape from the asylum, intent on revenge against all his betrayers and enemies. As a potent hurricane blows into Savannah, Mallory's car is torched, and Rick receives threats. Believing his children are in danger, Rick removes them from school, prompting a warrant for his arrest. When his children disappear, Rich goes on the counterattack against Dixon. Chinese cinematographer Changwei Gu (of Chen Kaige's Farewell My Concubine and Zhang Yimou's Ju Dou) captured the soaked Savannah sites. The script is not an adaptation from a John Grisham novel; Grisham wrote it as an original screenplay just before the success of The Firm (1993), and it was acquired by producer Jeremy Tannenbaum. After Island Pictures came into the project at $1.4 million, Grisham returned for rewrites. Altman did even more drafts, so the pseudonym Al Hayes was created as the scripting credit. When Polygram suggested to Altman that the electronic score could be replaced with a traditional score, Altman had friends call reporters to say he had been dismissed. Polygram began re-editing the $25 million movie, but their edit didn't test much better than Altman's version, so they handed the reins back to Altman.
Critic Reviews for The Gingerbread Man
Audience Reviews for The Gingerbread Man
Altman even makes this look good. Plus the setting of Savannah helps. A great little performance from Robert Downey Jr. as well.
Graham Jones
Super Reviewer
½
There is so much wrong with "The Gingerbread Man" that it's no wonder Robert Altman was threatening to disown the film upon it's release. After a bitter fight with Universal over, well, the entire outcome of the film, Altman's sensibilities as a director are scarcely recognizable. Still, the film wouldn't have even been that great if Altman had complete control. The story, from John Grisham, is uninteresting and just plain bizarre. The acting is ham fisted and all those cheesy southern accents don't help, either. From the lame title, to the outlandish yet strangely pedestrian narrative, "The Gingerbread Man" is one of Altman's worst films. But then again, can you even call this a Robert Altman film?
Steven Carrier
Super Reviewer
½
Altman concocts what may have been a good thriller, but forgets to add the thrills. This is certainly not his genre. Why show us somebody trying to make a phone call to someone and building it up so much when we know that person hasn't got there phone? Especially when it cuts back to the shot of the phone more than once. The cast are great and really manage to salvage what is quite an interesting script until the final twist.
Luke Baldock
Super Reviewer
The Gingerbread Man Quotes
There are no approved quotes yet for this movie.