Girl Asleep
(2016)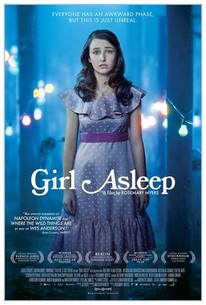 TOMATOMETER
AUDIENCE SCORE
Critic Consensus: Girl Asleep takes a singularly quirky look at adolescence with a distinctive visual style and a refreshing perspective that belies the story's period setting.
Movie Info
The world is closing in on Greta Driscoll. On the cusp of turning fifteen she can't bear to leave her childhood, it contains all the things that give her comfort in this incomprehensible new world. She floats in a bubble of loserdom with her only friend Elliott, until her parents throw her a surprise 15th birthday party and she's flung into a parallel place; a world that's weirdly erotic, a little bit violent and thoroughly ludicrous - only there can she find herself. Based on the critically acclaimed production by Windmill Theatre, Girl Asleep is a journey into the absurd, scary and beautiful heart of the teenage mind.
Critic Reviews for Girl Asleep
Audience Reviews for Girl Asleep
Strange little movie I stumbled upon on Blu Ray but had never heard of, despite it being a fairly recent Australian film. Glad I took a chance on it. I didn't love the fantasy part at the end, but the rest was great. Really got the 70's era captured perfectly and I liked the strangeness of the characters.
Nicki Marie
Super Reviewer
½
'Girl Asleep' takes us into the mind and subconscious fantasy of a young girl for a theatrically presented coming-of-age almost 1970s set Australian film. The mainly deals with fitting in with the society, especially when one has moved to a new area or school. The film's style, cinematography and art direction are what set it apart from other films of it's genre. It's style is almost akin to Wes Anderson, concentrated framing within various sets even when focusing on two characters. Though the premise might seem formulaic, it subverts these conventions by being a small scale feature that doesn't focus on any bigger picture scenarios that could have been explored, It's the majority of the fantastical aspects that occupy the second act that make the film stand on it's own. The fantasy aspect is like a school play on a theatrical stage, with the main cast playing into the mind of the young character metaphorically displaying her struggles, which are all really really fun to witness. Even with the more obnoxious factors of the film regarding the characters, making or breaking their stereotypes, the film presented in old fashioned 4:3 aspect ratio, the on set title cards and transitions making this the most uniquely made Australian film I've seen all year. The comedy is also very well done and has plenty of laugh out loud moments and scenes, it's worth it for what it is and adequate for it's genre and run time.
Luke Eberhardt
Super Reviewer
Girl Asleep Quotes
There are no approved quotes yet for this movie.