La Fille Coupée en Deux (The Girl Cut in Two) (A Girl Cut in Two)
(2008)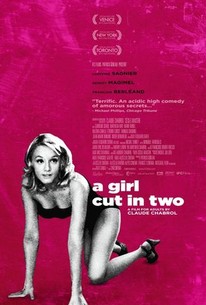 TOMATOMETER
AUDIENCE SCORE
Critic Consensus: Nouvelle Vague master Claude Chabrol balances subtle stabs of humor and biting class criticism to explore a love story and the seedier side of the haute bourgeois.
La Fille Coupée en Deux (The Girl Cut in Two) (A Girl Cut in Two) Photos
Movie Info
A television weatherwoman is pursued simultaneously by a spoiled pharmaceutical heir and a successful -- but much older -- writer in director Claude Chabrol's blackly comic tale of romance and class differences. Gabrielle Deneige (Ludivine Sagnier) has a high-profile job detailing the forecast on French TV. Yet despite Gabrielle's staunch work ethic, she values her privacy over her professional career and lives in a modest house with her aging mother (Marie Bunel). One day, renowned author Charles Saint-Denis (François Berléand) is interviewed at the television station where Gabrielle works, and the two feel an instant, powerful connection. Later, at a book signing, the pair continues to flirt despite the presence of entitled rich kid Paul Gaudens (Benoît Magimel) -- who openly despises the writer and longs to claim Gabrielle as his own. Despite the fact that Charles is still happily married to his wife of 25 years (Valeria Cavalli), with whom he has set up home in a posh ultra-modern estate in the countryside, he and Gabrielle share an intimate afternoon at the author's nearby pied-à-terre. Later, as the potentially psychotic Paul steps up his pursuit of Gabrielle, the girl begins to question whether either of her suitors is pure in his intentions.
News & Interviews for La Fille Coupée en Deux (The Girl Cut in Two) (A Girl Cut in Two)
Critic Reviews for La Fille Coupée en Deux (The Girl Cut in Two) (A Girl Cut in Two)
Audience Reviews for La Fille Coupée en Deux (The Girl Cut in Two) (A Girl Cut in Two)
I'll be honest, I only watched The Girl Cut in Two because I think Ludivine Sagnier is a Class A hottie. So it's probably not a shock that I was underwhelmed by it. It's a rather French movie about a woman (Sagnier) who is pursued by two men, a young and emotionally volatile rich man, and an older married writer. Both men are ultimately bad options, and the movie quickly changes from something of a charming romantic film to something much darker in tone. It could be called "a movie cut in two", if a person wanted to be clever (which I do). Anyway, neither half of the movie was particularly good, in my opinion. The narrative tended to wander, Sagnier's character seemed silly and unsympathetic with little explanation of why, and the other characters were almost universally unlikable or uninteresting. Combine all that with the odd (and not in a compelling way) ending, and The Girl Cut in Two becomes a movie that I probably wouldn't recommend.
A most infuriating film by a famous director. Does Chabrol hate women as much as this indicates? Or is this some sort of Gallic humor that doesn't translate well? A young, somewhat naive woman, Gabrielle (Ludivine Sagnier) is pursued by two equally despicable characters. Charles (Francois Berleand) is a worldly, famous author who wins her heart and then uses and abuses her. Paul (Benoit Magimel) is a member of the idle rich, a spoiled brat intent on getting his way, no matter what. That Gabrielle was forced to choose either of these losers and suffer greatly no matter which way she chose did not fit with her image as a successful TV journalist on the way up. This is France. This is Paris. Either choose to show us the depravity, or give us hearts and flowers. This was totally unacceptable, as Chabrol gave us neither. He also chose to give us no one with whom the audience could identify or view with any sympathy. Beautiful scenery and fine acting. The craft is unmistakable. For that, I give it three stars. This viewer just hated the story and what it says about this particular woman, and by extension, women in general.
Mark Abell
Super Reviewer
A thriller inspired by the infamous, murderous New York love triangle between Evelyn Nesbit, Harry Thaw and Stanford White. The story takes place in modern-day France: Ludivine Saigner plays the lead, a lovely weather girl, Francois Berleand is the famous, aging writer who begins an affair with her, and Benoit Magimel is the psychologically unstable -young-millionaire who wants to marry her. These superbly-written and overall unpleasant characters drift between the evil and the ingenue with slyness. Selfishness and immorality abound, everyone takes advantage of everyone, and approches everyone for reasons very different from love. So all in all, as I watched, I knew all three characters were bound for something tragic. Chabrol is a skilled, competent filmmaker, and his film never falls flat, never bores, it keeps a steady pace and a consistent veil of suspense and uncertainty. To put it simply, it is a regular Hitchcock, with less censorship limitations. While it isn't an extraordinary film it is a good thriller with some black comedy moments. And what's best, it is a non-cop thriller; therefore it has less opportunities to be commonplace, and less pressure put on a typical police figure. All the interaction within La fille coupée... takes place in a very (un)civic and unlawful context in which unbridled sexual and emotional promiscuity thrives, not just between the members of the "love" triangle but between them and their immediate surroundings. Everyone in this film very much wants to be uncompromisingly seduced and is more than willing to dispose after using. So, there's not much left to say... a thriller about bad things that happen to people of questionable morale (there are no bad guys here!)
La Fille Coupée en Deux (The Girl Cut in Two) (A Girl Cut in Two) Quotes
There are no approved quotes yet for this movie.