La Fille de Monaco (The Girl from Monaco)
(2009)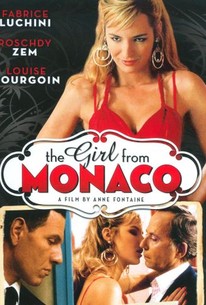 TOMATOMETER
AUDIENCE SCORE
Critic Consensus: Undeniably slight, this satiric thriller suffers from an uneven tone and a relative lack of thrills, but solid performances from the cast help keep it afloat.
La Fille de Monaco (The Girl from Monaco) Photos
Movie Info
A bodyguard hired to look after a lawyer ends up protecting the man from himself in this breezy comedy from France. Bertrand Beauvois (Fabrice Luchini) is a successful fiftysomething attorney who's hired to represent Edith Lasalle (Stéphane Audran), who has been charged with killing a man with ties to the Russian mafia. Edith's adult son, Louis (Gilles Cohen), has been warned that Russian strong-arm men may try to silence his mother and her legal team, so he hires a private security team to protect them and Bertrand finds he's shadowed at all times by stone-faced Christophe Abadi (Roschdy Zem). Bertrand doesn't see the need for Christophe's presence, but when the lawyer has trouble brushing off a former girlfriend he'd rather not see, the bodyguard turns out to be a valuable ally. Bertrand and Christophe strike up a friendship, as the former is increasingly impressed with the latter's street smarts and good judgment, but when Audrey Varela (Louise Bourgoin), a gorgeous woman nearly half Bertrand's age, begins throwing herself at him, Christophe has a hard time convincing his client that something is clearly not right. La Fille de Monaco (aka The Girl From Monaco) received its North American premiere at the 2008 Toronto Film Festival.
Critic Reviews for La Fille de Monaco (The Girl from Monaco)
Audience Reviews for La Fille de Monaco (The Girl from Monaco)
A high-profile lawyer falls for a sprightly weather girl against the advice of his world-weary bodyguard. Essentially a dramedy about the perilous line between love and sexual obsession, this film is interesting when it's not trying to be funny and funny in all the right ways. Professional critics have complained about the thriller element to this film, but though it eventually winds its way to a thriller-esque conclusion, by classifying it as a dramedy, a drama with comic elements, I found things to like. After all, the idea of a film with all the trappings of a romantic comedy but which takes its themes seriously and probably surprised even the filmmakers is refreshing in the genre. Louise Bourgoin as the mercurial sex kitten who seduces the main character is beautiful, and her acting talents make her character's weather-like changes believable. Fabrice Luchini is also quite good; I think my favorite moment is his nearly catatonic dive into the pool. Overall, I found the mixed elements of The Girl from Monaco satisfying and entertaining.
Jim Hunter
Super Reviewer
½
Le Fille de Monaco was a mix of romantic comedy together with drama. Unfortunately, the end result was bad and there was no way to connect with the characters. Fabrice Luchini played Bertrand. an elite lawyer coming to Monaco to work a high profile case. He was assigned a bodyguard, Christophe, with whom he developed a great friendship. Then appeared Audrey, a weather forecast girl, who was way younger than Bertrand and she turned his life upside down. Luchini and Zem had good chemistry on screen and the bound they formed was interesting but never fully realized.Then the movie suddenly made an unexpected twist, which was not bad but due to lack of character development, it was difficult to believe the turns of events experienced here.
Daisy Maduro
Super Reviewer
½
In "The Girl from Monaco," Bertrand(Fabrice Luchini) is a top criminal lawyer in Monaco to defend Edith(Stephane Audran) on charges of killing her lover. He was hired by her son Louis(Gilles Cohen) in order to stop his mother from defending herself in court, having already dismissed several lawyers. Against the possibility of retaliation by the victim's family, he has also gone to the trouble of hiring Christophe(Roschdy Zem), a bodyguard, to protect Bertrand which he thinks is foolish. That is until Christophe helps in getting rid of Helene(Jeanne Balibar), a particularly troublesome lover. After that, the two men bond but Christophe can do nothing to protect Bertrand from the charms of Audrey(Louise Bourgoin), the local weather girl. "The Girl from Monaco" is a sexy legal drama about control. Both Bertrand and Christophe need it to be successful in their professions. Bertrand needs control over every word in the courtroom and when he seduces women. Christophe needs it over the environment to protect his clients and emotions. What they also have in common is a lack of serious involvement with women(nothing wrong with this, as long as nobody gets hurt) which is why they are so concerned about their lack of control over Audrey who is sex personified and a force of nature, if you will. She is not crazy, nor is Helene, just passionate.
La Fille de Monaco (The Girl from Monaco) Quotes
There are no approved quotes yet for this movie.