Girl On A Bicycle
(2014)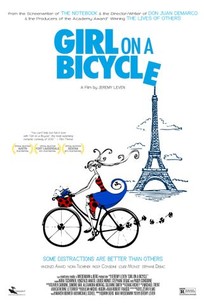 Movie Info
Paolo (Vincenzo Amato), an Italian who drives a Paris tour bus, has just proposed to his true love, the German stewardess, Greta (Nora Tschirner), when the young French beauty, Cécile (Louise Monot) pulls up beside his bus on her bicycle - and, in short order, Paolo, following some very bad advice from his friend, Derek (Paddy Considine), finds himself with a German fiancée, a French "wife", two Australian children who call him "Papa", and his life upside-down. (c) Monterey Media
Critic Reviews for Girl On A Bicycle
Audience Reviews for Girl On A Bicycle
½
Funny how the film is so culturally diverse, featuring characters from various different European countries, yet none of these characters are of color. Funny how that culturally-diverse thing only works for white people. I'm not saying it was by design, it very most likely was an oversight, but it's still funny to me. And really, the attempt at having a multi-cultural cast, which is a good idea in theory, is only done in order to get as much financing from studios around the world as possible. It's transparent as shit. It doesn't help that the film isn't particularly good or interesting. Instead of telling an interesting story of a man stuck between two women, one whom he loves and the other whom he doesn't, but has grown attached to her children, the film relies on national stereotypes and silly slapstick in order to get its point across and it doesn't work in any way whatsoever. The humor is just incredibly forced and contrived, it's just annoyingly saccharine at times. If there's one thing this film has, it's Paddy Considine and a beautiful Parisian setting. But, it's not as if the Parisian setting, which really feels more like a promotional video for tourism in Paris, really makes up for the really weak script. Yes, Paddy Considine is great, as always, but he's handicapped by the poor scripting and the sitcom-y approach to its story. The acting is decent but the lead, Vincenzo Amato, is just absolutely no good whatsoever. There's just no life, no charisma in the way he delivers his lines. He comes across as friendly and likable, but he's just no good at acting. And that transfers itself onto the rest of the film, this is really a lifeless and soulless exercise in romantic comedy stupidity.
Jesse Ortega
Super Reviewer
Girl On A Bicycle Quotes
There are no approved quotes yet for this movie.