Girl Shy
(1924)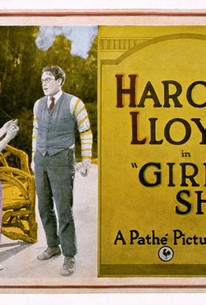 AUDIENCE SCORE
Critic Consensus: No consensus yet.
Movie Info
A virginal small-town young man pens a How-To book on the secrets of lovemaking, emboldening him to claim back the girl he loves just as she approaches the altar. This side-splitting Harold Lloyd classic features an impressive chase finale and a climax lifted and reused in The Graduate(1967).
Critic Reviews for Girl Shy
All Critics (1) | Fresh (1) | Rotten (0)
It's a modestly entertaining physical comedy with a spectacular classic closing chase scene, and with Lloyd doing all the stunts.
Audience Reviews for Girl Shy
The premise for this Harold Lloyd vehicle is the oft-used trope of the nice guy who is terribly shy around women, in this case, so much so that he begins stuttering and even trembling. What makes it amusing initially is that he's also an aspiring writer who, of all things, has written a how-to book for other young men called "The Secret of Making Love". The two fantasy sequences he dreams up while writing, for chapters dealing with a woman who is a vampire (vamp) and a flapper, are fantastic, and I wish there could have been more of them. Lloyd is of course cool, confident, and macho in his daydreams, at one point giving the flapper (Judy King) a spanking. In real life he can't even muster the courage to sit down next to a rich young girl who has tried to sneak her dog on a train (Jobyna Ralston). The love story that develops between Lloyd and Ralston is predictable, but sweet. The two of them carry around mementos of their meeting (a box of dog treats for him, and a box of Cracker Jacks for her), pining away for each other. Lloyd endures humiliation in many ways, the most memorable being when an entire office crowd around to laugh over his book, and then mock him mercilessly. These empathy building devices for the 'nice guy' are cliché today, but I found them endearing and interesting, especially since the film is from 1924. There are a few nice gags along the way, but what really makes the film is the madcap journey he takes aboard all manner of vehicles - a car, train, pair of horses, streetcar, motorcycle, etc. towards the end. It's an extended sequence that is brilliant and memorable.
Antonius Block
Super Reviewer
Girl Shy Quotes
There are no approved quotes yet for this movie.