The Girlfriend Experience
(2009)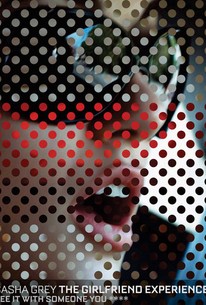 The Girlfriend Experience Photos
Movie Info
Set in the weeks leading up to the 2008 presidential election, "The Girlfriend Experience" is five days in the life of Chelsea (adult film star Sasha Grey in her mainstream film debut), an ultra high-end Manhattan call girl who offers more than sex to her clients, but companionship and conversation--the girlfriend experience. Chelsea thinks she has her life totally under control--she feels her future is secure because she runs her own business her own way, makes $2,000 an hour, and has a devoted boyfriend who accepts her lifestyle. But, when you're in the business of meeting people, you never know who you're going to meet.
News & Interviews for The Girlfriend Experience
Critic Reviews for The Girlfriend Experience
Audience Reviews for The Girlfriend Experience
½
Though the film's subject may not appeal to everyone, it is fascinating how Soderbergh uses a low-budget, experimental approach to take an honest look at the private life of an escort played by porn actress Sasha Grey as she deals with her clients, her work and her boyfriend.
Carlos Magalhães
Super Reviewer
Chelsea: After he got off the phone, we made out for a while and then he asked me to masturbate, which I did. Then he masturbated while watching me. He made another appointment for November 3rd.  "See it with someone you ****" The Girlfriend Experience is another one of Steven Soderbergh's experimental films. It is in the style of a movie like Bubble more then a movie like Ocean's 11. He filmed it on a small budget in a matter of two weeks with a cast that has never acted before(except Sasha Grey, but her normal films include deep throating or anal). It's extremely short and also feels like the audience is distanced from the characters. The movie doesn't do the audiences any favors when it comes to excitement. The movie is all about thought and character, and could be off-putting in that respect. A "sophisticated escort" goes about her life and we watch it take place. She has a boyfriend who is okay with the whole thing, but he seems to want it to stop through his dialogue. He hints at it, but doesn't just come out and say it. The plot is really not there. It's more just a character driven movie that has some statements to say about the Obama/McCain race and the crumbling economy. This whole movie is Chelsea's and the brunt of the film falls squarely on Sasha Grey's fingers. So did she deliver? Well, sorta. She wasn't half bad, and because of that, it's the same with the movie as a whole; it wasn't half bad.  In the end, I always have fun seeing a Soderbergh film for the first time and The Girlfriend Experience was no different. It wasn't a masterpiece by any stretch, but it was a decent little experiment. Not as good as Bubble, but still pretty good. I'm always open to movies like The Girlfriend Experience though; especially when someone like Soderbergh is directing. These type of experimental movies can be some of the most realistic movies you'll ever watch. Soderbergh's Bubble and Van Sant's Elephant and Paranoid Park are movies that come to mind. The only thing that is lacking in The Girlfriend Experience to create that same realistic effect are the performances. The Girlfriend Experience's performances just aren't good enough to create it.
Melvin White
Super Reviewer
An original though detached and shallow study of the economic meltdown of 2008, seen through the lenses of a New York call girl (Sasha Grey), and how she deals with her various clients. While director Steven Soderbergh does a brilliant job picking a perspective on a subject like this and having a "fly on the wall" presence throughout, the film's inability to enamor or push beyond its initial thoughts on the economy prove to be very disappointing. It is still pretty good considering how Soderbergh filmed this as well as the fact that this does feel like an authentic look at a major event, but his inability to get inside his character's heads as well as not knowing exactly how to end his film mars its enough to say it is not worth an automatic recommendation. It is not bad, it just had the potential to be so much more than it is.
Dan Schultz
Super Reviewer
The Girlfriend Experience Quotes
There are no approved quotes yet for this movie.