Girls Trip
(2017)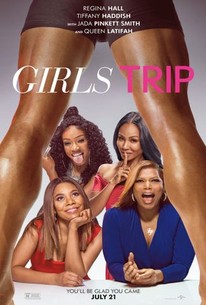 TOMATOMETER
AUDIENCE SCORE
Critic Consensus: Girls Trip is the rare R-rated comedy that pushes boundaries to truly comedic effect -- and anchors its laughs in compelling characters brought to life by a brilliantly assembled cast.
Movie Info
When four lifelong friends-Regina Hall, Queen Latifah, Jada Pinkett Smith and Tiffany Haddish-travel to New Orleans for the annual Essence Festival, sisterhoods are rekindled, wild sides are rediscovered, and there's enough dancing, drinking, brawling and romancing to make the Big Easy blush. James Lopez, head of motion pictures for Will Packer Productions, and Preston Holmes, executive produce.
News & Interviews for Girls Trip
Critic Reviews for Girls Trip
Audience Reviews for Girls Trip
I didn't like Girls Trip. No great shock there, it's an American Comedy in much the same vein as a great number of American Comedies that have come before it I didn't like. A lot of other people did like it. That's fine. Different strokes for different folks. All that jazz. I totally understand it. What I don't understand is the vast number of people who have said "This one's different. This movie is gonna appeal to the people who don't normally go in for this sort of thing. It breaks all the conventions and even Independent film & Oscar film fans will love it". Like... No... When you follow up your piss-joke with the exact same piss-joke just seconds later... It's like... This is exactly the same as every other movie I hate.
½
An exceptionally funny and worthwhile comedy!
Film Crazy
Super Reviewer
½
It's very rare that a comedy comes out and many of the jokes stick with you afterward. Not since films like Superbad, Anchorman, or The 40-Year-Old Virgin has a film come out and become a worldwide classic in terms of its jokes. Many years have passed by since the last quotable comedy, and while I can't say that Girls Trip is destined to become the next one of those, it has definitely made a statement for comedies in 2017, because this particular genre has been pretty dry. As I said, this film won't be remembered as a classic, but it's a really solid flick that doesn't shy away from raunchy jokes, and it brings just enough heart to the table to make you care about where each of the characters end up. Here is why I believe Girls Trip is worth your time. Ensemble pieces are usually what makes or breaks a comedy for many people. When actors or actresses can play off each other, that's where many of the laughs come from. Sure, Chris Farley stumbling around is funny, but a full film based on that can become tiring, which is where chemistry between actors and actresses comes in handy. Although movies like Bridesmaids are hard to top in terms of an ensemble of women leading a feature film, I would go as far as to say that Girls Trip gives it a run for its money. Following a group of women after they've been separated from their childhood antics due to either becoming famous or needing to focus on their work, an opportunity brings them back together and grants them one last chance to become true friends again. Having to deal with troubled relationships, wanting to have sex, and just wanting to cut loose for a weekend, Girls Trip is the type of comedy that can really catch you off guard if you're not expecting a wild and raunchy ride. I personally love Regina Hall in pretty much everything she's in and Queen Latifah and Jada Pinkett Smith deliver solid performance and are believable as best friends. The standout of this film is easily the wild one of the bunch, played by Tiffany Haddish. Now, if you're easily offended by raunchy people, then her performance alone will probably turn you off, but if you're all in, then she makes this movie truly worthwhile. Her eccentric character equally disgusted me and put a smile on my face. So as far as the chemistry between the characters and the comedy itself goes, this movie is a blast from start to finish, but that's not really enough to call it great. Yes, I thoroughly enjoyed my experience with this film, but the story itself is something you've seen a million times before. Friends reconnect, some of them need to mend a few wounds and each of them has their own personal issues to deal with. You can see the ending from a mile away, but at least the cast holds it together extremely well, delivering believable performances, making you not complain too much about the premise itself. In the end, Girls Trip is easily recommendable for those who enjoy R-rated comedies, but if you're looking for something tame, I would advise against it. Simply put, this movie is all too familiar to call it one of the best comedies I've seen in a while, and while I find myself remembering many of the jokes and would watch it a few more times for the chemistry and antics, the movie itself just isn't sticking with me the same way the jokes are. I would call this a mixture of The Hangover and The Hangover: Part II, in that you like the characters, but the premise itself feels familiar. It has some great jokes as if you were watching The Hangover for the first time, but there are moments that leave a bad taste in your mouth like The Hangover: Part II did. Still, I enjoyed it from start to finish, so it gets a recommendation from me.
Girls Trip Quotes
There are no approved quotes yet for this movie.