Give 'em Hell Malone
(2010)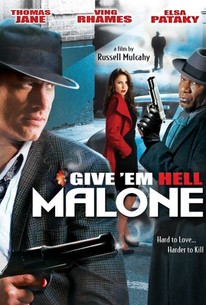 AUDIENCE SCORE
Critic Consensus: No consensus yet.
Movie Info
A legendary gunman discovers why sometimes the simplest-sounding missions can also be the most dangerous when he attempts to recover a briefcase containing "the meaning of love" from a five-star hotel. Even the worst criminals tremble with fear upon hearing the name Malone (Thomas Jane). If only half of the rumors surrounding the tough-as-nails triggerman are true, then he's still the meanest guy ever to walk these unforgiving streets. Some say that Malone picked up his first gun after gangsters killed his entire family, and those are the most optimistic rumors concerning his shady background. Contacted by his point man, Murph, and asked to retrieve a briefcase from a haughty local hotel, Malone makes quick work of the thugs and hitmen who've been awaiting his arrival. But Malone didn't expect to walk into a shoot-out, and after pressing Murph for more information, he discovers that the man who contracted him for the perilous assignment was none other than powerful local mob boss Whitmore. Now that he has the briefcase, Malone is supposed to give it to blonde bombshell Evelyn (Elsa Pataky), who will in turn deliver it to Whitmore in exchange for her brother Sammy. Should the briefcase fail to materialize, Sammy will pay the ultimate price. Meanwhile, suspecting that the case contains work visas for a group of immigrant girls he wants to put to work as prostitutes, Whitmore recruits hulking giant Boulder (Ving Rhames) and blade-wielding psycho Mauler (Chris Yen) to get the briefcase back from Malone. Should they fail in achieving this simple task, deranged pyromaniac Matchstick (Doug Hutchison) will almost certainly succeed. Later, at the drop-off, Mauler kills Sammy, sparking an intense shoot-out during which Malone and Evelyn are separated. With nowhere to run and the three thugs fast gaining ground, Malone vows to protect the contents of the case and take down Whitmore once and for all.
Critic Reviews for Give 'em Hell Malone
All Critics (1) | Fresh (0) | Rotten (1)
[Tries] to cash in on the style of much better films like Sin City but unfortunately comes off more like a carbon copy of other bad films like The Spirit.
Audience Reviews for Give 'em Hell Malone
½
Not my cup of tea. I like Thomas Jane, too, but even he couldn't get me to like this movie. Lame.
Cynthia S.
Super Reviewer
"Hard to love... Harder to kill." A tough as nails private investigator (Malone) squares off with gangsters and their thugs to protect a valuable secret. Malone goes through hell to protect the information but he dishes some hell as well...
REVIEW
Lots of gory effects and nice idea about throwing them into ambient of film-noir. That's about it for this movie. As for acting, I only liked supporting actors French Stewart and Leland Orser (Frankie and Murphy) as rest of the cast was mediocre at the best. Never felt any spark between boring Elsa Pataky (Evelyn) and not-so-believable-as-unbuttoned-drunkard Thomas Jane (Malone). Malone does get a cool voice, that seems to be a standard for cinematography these days. Characters are cartoonish, we can see bits of Sin City in it, unfortunately they are clumsily developed and often over the top. World is mix of 50s and cell-phones, music is scarce but appropriate and pleasant. There are few fresh spots and lot more clichés and borrowed places. Too bad, with more creative freedom it could be fun flick. Overall movie looks good, it just doesn't have good enough script. I doubt you could say who actually hired who to do what and why when you finish watching.
Lorenzo von Matterhorn
Super Reviewer
Give 'em Hell Malone Quotes
There are no approved quotes yet for this movie.