Glass: A Portrait of Philip in Twelve Parts
(2008)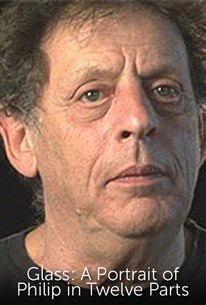 Glass: A Portrait of Philip in Twelve Parts Photos
Movie Info
Shine director Scott Hicks documents a year in the life of prolific composer Philip Glass in order to explore the work that goes into creating a symphony and offer a detailed overview of his subject's remarkable career. Glass may be a composer whose name is virtually synonymous with the minimalist music movement, but one shouldn't be so quick to pigeonhole the composer. A musician who is outwardly confident and at times unpredictable, Glass works tirelessly to create a composition entitled Symphony No. 8 for orchestra, as well as an opera entitled Waiting for the Barbarians. Additional conversations with Glass's family and friends highlight how the composer is able to retain his creative spirit while simultaneously remaining a devoted family man. ~ Jason Buchanan, Rovi
Critic Reviews for Glass: A Portrait of Philip in Twelve Parts
Audience Reviews for Glass: A Portrait of Philip in Twelve Parts
"Glass: A Portrait of Philip in Twelve Parts" is an illuminating documentary, perhaps too much so, of the life and career of the famed composer, whose work I know mostly through his film work, starting with "Koyaanisqatsi" which a college friend watched repeatedly until an intervention had to be staged. So, it should come as no surprise, that my favorite part of this documentary is the segment with Errol Morris, Woody Allen and Martin Scorsese talking about their collaborations with him. There is also ample time given over to Glass' philosophy which informs some of the projects he has worked on over the years.(Why it does seem everybody famous gets photographed with the Dalai Lama?) And what starts off as simply providing background information on his personal life and marriage to a much younger woman(There is a joking reference to a guideline that a man should marry a woman who is one half his age plus seven which I also remember from The Autobiography of Malcolm X) takes on a life of its own as there emerges a sense of his failing to balance his work and personal life adequately in preparing a new opera in Germany. While most men his age in their seventies are more likely starting to retire and relax, Glass' pace is picking up as he pushes himself to write the music that is filling his head while keeping himself in excellent physical shape at the same time. Not only that, but he also starts a new family to whose attention he cannot give his fullest. I do not think that has anything to do with my thinking that men should stop reproducing at the age of 50 and am loath to ever be put into the position I find myself here to comment on somebody else's personal life. Instead, I would have preferred the writing, crafting and performing of the opera to be used as a framing device and given more attention in general.
½
MIFF '08: To end the festival this year, I saw Glass: A Portrait of Philip in Twelve Parts - and how 'indie doco' do they want to make that title?! They may as well have just called it Glass: Philip in D-Minor or some shit. Anyway, I fell asleep twice - never a good sign. The film offered very few insights into his film work, which was what I was interested in. Instead, it looked more at his symphonies and his home life. It seriously seemed like his marriage with Holly was about to collapse. But having to live with someone who clearly never stops working...what else could you expect? The brief appearances of Woody Allen and Martin Scorsese added little to the film, and for at least five of the "Twelve Parts" I was as bored senseless. It sucks to end the festival on such a low, but on the whole, this was a very good year.
Robert Fearon
Super Reviewer
Glass: A Portrait of Philip in Twelve Parts Quotes
There are no approved quotes yet for this movie.