The Glimmer Man
(1996)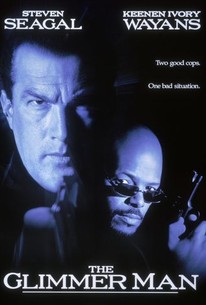 Movie Info
Action star Stephen Seagal teams up with comic actor Keenen Ivory Wayans in this thriller. Seagal plays detective Jack Cole. He has come to Los Angeles to bring a notorious serial killer to justice. The mysterious and somewhat mystical Cole is assisted by local cop Jim Campbell (Wayans). The press calls the killer "The Family Man" because he tends to kill entire families and then lay them out to mimic the crucifixion. Even before Cole and Campbell can begin their investigation, they must rush to a high school and stop a crazed young gunman from killing his peers. From him, the gumshoes are directed towards his wicked stepfather who plays a key role in the subsequent action.
Critic Reviews for The Glimmer Man
Audience Reviews for The Glimmer Man
Got a love/hate relationship with Seagal and his films, on one hand they are all completely nonsense of the highest order and rarely any good (unless your a Seagal fan of course). Its the same old formula with Seagal, ALWAYS being some kind of special forces guy or elite police force guy or ex-military guy etc...and called upon to save the good old US of A from nasty villains, always taking it very easy in the process (I've never really seen the guy run much during the action), always looks the same and always uses an obvious stunt double for everything lol! On the other hand you can't complain because like JCVD or Arnie his films do what they say on the tin and everyone knows what to expect, if you don't like this type of film then you obviously don't watch. Many do watch because Seagal is one of the old 80's action man pack and does provide your daily fix of gratuitous violence and bloodshed. This is probably one of his last better offerings before he got too fat and entered into the 'straight to DVD hell' of seemingly no return. We see Seagal in all his glory, providing his own wardrobe I assume as I have gotten the impression over the years he insists on wearing his 'ethnic' attire no matter what role he plays lol! I think he likes to be seen as a spiritual warrior of the East. The action is predictable as is the plot and the characters are your typical mismatched duo with the obligatory unfunny quips from Wayans. Its basically the same old Seagal in the same old role doing the same old shit with the same old stunt double, guys run at Seagal, he touches them, they throw themselves head over heels through a window. To be honest I never knew how or why Seagal managed to get into action films as the guy displays the least amount of action I've ever seen in an action film, but I guess some like his stuff and this isn't too bad, just don't expect any surprises.
Phil Hubbs
Super Reviewer
½
A bit darker than most buddy-cop genre films, but the teaming of Seagal and Wayans does work in many ways. The movie moves along too fast at times and a bit slower at others, but this was the last truly halfway-decent film Seagal made (with the exception of Into The Sun). It's not Rush Hour, true, but thank God it's not becuase if Wayans was even half as annoying (and unfunny) as Chris Tucker, then I would've thrown this DVD into the fireplace before the classroom scene.
Derek Daniels
Super Reviewer
½
U gotta check this one out...It's way Cool!!
EightThirty .
Super Reviewer
The Glimmer Man Quotes
| | |
| --- | --- |
| Capt. Harris: | I forgot who my character was, but it doesn't even matter. |
| | |
| --- | --- |
| Detective Jim Campbell: | I'm a clown. |