Goal II: Living the Dream
(2007)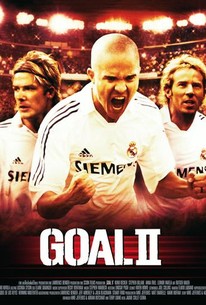 Goal II: Living the Dream Photos
Movie Info
The Jaume Collet-Serra-directed comedy drama Goal! 2: Living the Dream finds star European soccer player Santiago Muñez (Kuno Becker) bumped by his agent (Stephen Dillane) from England's Newcastle United team to Real Madrid's Galácticos, where he is thrilled to play alongside field legends David Beckham, Ronaldo, Zinedine Zidane, and others. In off-time, temptation lingers in the form of amorous dalliances with spicy local women, especially the TV hostess Jordana (Leonor Varela) -- a relationship that threatens the security of his marital engagement to Geordie nurse Roz (Anna Friel), who has accompanied him to Spain. During his time in Madrid, Santiago also discovers, most unexpectedly and poignantly, what happened to the mother who abandoned him during his early childhood. Alessandro Nivola co-stars as Santiago's pal Gavin.
Critic Reviews for Goal II: Living the Dream
Audience Reviews for Goal II: Living the Dream
A decent follow up to the first film, with the young Mexican snapped up by Real Madrid in the January transfer window to help their champions league campaign. Again this has plenty of guest stars playing themselves and the football games and scenes are very well done. Plot wise the new kid on the block has to cope with fame and fortune, the press, living abroad with his wife back in Newcastle and finding his mother. Not as deep story wise as the first, you do need to watch that first really and I wasn't happy with the quick ending waiting for the third installment, but this is about as good a film about football as can be made. Next up Goal 3 at the World cup!!
½
It was really good, didn't quite surpass the original but it was close to it. Love the play scenes!!! Awesome movie! After gaining experience with the football club Newcastle United, Santiago Munez (Becker) gets a huge break when he's transferred to Real Madrid.
½
Announcer: Cometh the moment, cometh the man. As far as movies go, this is an entirely predictable movie but its pretty decent. If you want a nice Sunday film where you don't have to think, its ideal. The football bits are quite good, the cameos are great and the story is reasonably engaging. Im not saying its brilliant by any means but I don't think it deserves the negative comments its had. Its a good fun football film that any sports fan will enjoy - and fair play for ending on a cliffhanger. Becker is a charming lead and Friel pulls of a reasonably genuine Geordie accent. If you want a sports movie with a bit of heart, fluff, action and a bit of glamour, you won't be disappointed. 3.5/5
Lorenzo von Matterhorn
Super Reviewer
Goal II: Living the Dream Quotes
There are no approved quotes yet for this movie.