Goat
(2016)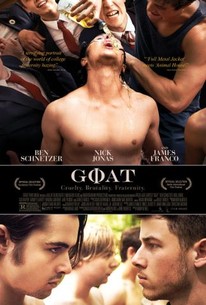 TOMATOMETER
AUDIENCE SCORE
Critic Consensus: Goat isn't an easy watch, but its thought-provoking themes, talented cast, and all-out intensity offer rewards for viewers willing to tough it out.
Movie Info
Reeling from a terrifying assault over the summer, 19-year-old Brad Land (Ben Schnetzer) starts college determined to get his life back to normal. His brother, Brett (Nick Jonas), is already established on campus and with a fraternity that allures Brad with its promise of protection, popularity, and life-long friendships. Brad is desperate to belong but as he sets out to join the fraternity his brother exhibits reservations, a sentiment that threatens to divide them. As the pledging ritual moves into hell week, a rite that promises to usher these unproven boys into manhood, the stakes violently increase with a series of torturous and humiliating events. What occurs in the name of 'brotherhood' tests both boys and their relationship in brutal ways. Directed by Andrew Neel (King Kelly, Darkon ), co-written by Neel, David Gordon Green and Mike Roberts, based on the acclaimed memoir by Brad Land, GOAT provides a searing portrayal of masculinity, violence and brotherhood. The film is produced by Killer Films' Christine Vachon and David Hinojosa with Rabbit Bandini's James Franco and Vince Jolivette.
News & Interviews for Goat
Audience Reviews for Goat
NANNY! NANNY! POO! POO! - My Review of GOAT (3 Stars) ME: A movie about fraternity hazing starring Nick Jonas? FULL METAL JACKET meets ANIMAL HOUSE? Sign me up for a crazy, but maybe slightly unflinching romp, why dontcha? [cut to two hours later] ME: Mommy! Help! That about sums up how GOAT made me feel, a film directed by Andrew Reel, with writing credits going to David Gordon Green (ALL THE REAL GIRLS, PINEAPPLE EXPRESS), Mike Roberts and Neel, based on the memoir by Brad Land. Ben Schnetzer plays Brad, who at the beginning of the film experiences something traumatic. I won't reveal what it is, but it's an incredibly tense, gripping, dread-filled sequence. Once recovered, he decides to attend the same Ohio university as his older brother Brett (Nick Jonas) and pledge the same fraternity. Unfortunately, he has chosen a house that opts for torturous hazing rituals during its Hell Week, yet our protagonist sees this as an opportunity to redeem himself from his actions during the aforementioned incident. GOAT pulls very few punches in its depiction of brutality and sociopathic behavior, yet it's also not particularly fun to watch. Except for a crazy cameo by James Franco as a legacy member who clearly aged but never grew up, there's very little humor in the film. Thus, the lure of fraternal life didn't come across as something terribly tempting in the first place. I suppose one could see joining based on the copious amounts of sex, drugs, and alcohol, or the promise of a bright future banding together with your brothers, but said brothers all seemed so irredeemably horrible that who would really want to hang with them? Tonally elliptical and somber, the film plays out more like a David Gordon Green film than one by its own director. The performances are terrific across the board, with Schnetzer, who with PRIDE, SNOWDEN and this film, really shows his range. Jonas has great presence and focus, and I completely bought everything he presented, whether it's a coked out state, controlling his brother, or finding deep wells of empathy. In fact, the brothers' relationship anchors the film really well. Frat brothers and pledges round out the talented cast with Gus Halper and Jake Picking standing out as particularly awful people. Their brand of shallow "I love you, mans" and intense bravado rang true. Danny Flaherty also excels as Brad's fellow pledge, a meek type clearly not cut out for Greek life. And then there's the goat itself. I'm sure the title evokes images of bestiality, and the threat of it really drives the second act, but what I'll take from the film instead is its implied meaning. Brad is a goat, or an ineffectual sort, who needs to toughen up if he's gonna overcome life's obstacles. The same can be said for Brett's character, but their journeys are slightly different. Watching these two evolve brings an unexpected beauty to the film, particularly in its last stretch of scenes. I initially found the ending to be abrupt and unsatisfying, but upon further reflection, rich and thoughtful choices were made here. But there's that painful middle section of the film where one's ability to stomach a non-stop succession of hazing, evoking images of Abu Ghraib mixed with bodily fluids, endless amounts of beer, mud, wetness, soaked, soiled underwear, and enough slaps to make Betty Davis jealous, will determine whether this is a film for you or not. Personally, when I went to UCLA, I found the entire Greek system to be an empty extension of High School politics, so I stayed far away. Best choice I ever made. So while watching GOAT, I kept thinking to myself, "Of course frats are terrible! What would make anyone think otherwise?" So it's an easy target, but the film manages to explore deeper issues. All in all, it's a well-made, thoughtful, painful film about a subject that repulses me. It's the TRUMP ELECTION RACE of movies. You watch in horror yet you can't look away.
Glenn Gaylord
Super Reviewer
The moronic brainwashing that you always suspected was an integral part of fraternity initiation truly does exist. This adaptation of Brad Land's memoirs on trauma and brotherhood certainly pulls no punches in hitting this truth home. While hardly disturbing as any Darren Aronofsky film, the reality of seeing young men sacrifice their dignity and individuality for some semblance of security or acceptance is anything but ineffective. Yes, the hazing is quite graphic, but I was surprised that the film never truly crossed the line into complete exploitation. The fraternal chiefs are fairly one-dimensional bros, but they don't ever seem like truly evil individuals, acculturated with the expectation of some archaic notion of machismo. They're just dumb kids becoming dumb adults amidst an unnecessarily violent rite of passage and culture. As boring as Ben Schnetzer and Nick Jonas are to watch and listen to, their lack of personality or drive is completely appropriate for their characters who are just as empty and adrift as any man boys their age could be. It felt like the film was reaching for something that it couldn't quite grasp the whole time. Perhaps it is an expose on white affluence, perhaps it is a commentary on American masculinity. Nothing get's mailed home except for "real brothers act like family". Overall, it isn't an essential piece of cinema, but it is certainly better than the similarly themed "Everybody Wants Some!".
K Nife Churchkey
Super Reviewer
Goat Quotes
There are no approved quotes yet for this movie.