God Bless Ozzy Osbourne
(2011)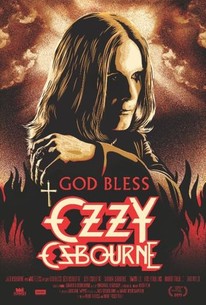 God Bless Ozzy Osbourne Photos
Movie Info
God Bless Ozzy Osbourne pulls the curtain open on the man known as the Prince of Darkness. For four decades Ozzy has been a rock icon known as much for his trademark personality and offstage antics as for his music as the frontman of Black Sabbath. With his rise to fame and money and his self-esteem issues, everything eventually took a toll on Ozzy as he embarked on an epic binge that would last 40 years. Directors Mike Fleiss and Mike Piscitelli spent two years on the road with Ozzy. Live footage from his latest tour is threaded throughout, but it's Ozzy's reflections and surprising candor about himself that make up the heart of the film. Frank interviews with his family-including Kelly, Jack (also a producer of the film), and wife Sharon, who we saw on the popular television series The Osbournes, as well as his other children and siblings-don't always paint a pretty picture. But Ozzy readily admits that his crazy life, marked by decades-long battles against addiction, affected his role as a husband and father. His life and career have had their ups and downs, and this definitive bio-doc is a testament to his survival. -- (C) Tribeca
Critic Reviews for God Bless Ozzy Osbourne
Audience Reviews for God Bless Ozzy Osbourne
½
I'm sure that out there somewhere there is a rock documentary that strays from the formula - but God Bless Ozzie is not that film - not that it doesn't manage to entertain and inform (which is, I would suppose, the goal of the enterprise). The formula, in case you are new to this 3rd planet in our solar system, is to show the person/band now, and then rewind back to childhood and then to the glory days that make us want to find out about the person/band in the first place. One of the failings in this film is that it shows the childhood pics by having Ozzie flip through them all and comment - a questionable tactic as his train of thought is still a bit scattered after 40 years of substance abuse. There are no real insights here - those come later, and mostly from his 2nd wife Sharon, who reveals that Oz has always had deep seated insecurities. Where the film shines is in showing that very bright light that was early Black Sabbath - as the many testimonials attest, Sabbath pretty much invented heavy metal - and musical luminaries such as Sir Paul noted that they were original, and looking back, quite talented and excellent song writers. The film then slogs through the post Sabbath, Randy Rhodes years as Oz self destructs - it is to the film's credit (or perhaps simply watching the act of redemption) that the slow catharsis and healing of OZ has some poignancy. At the end, when he speaks of finally accepting and coming to terms with himself, it rings true and resonates (something as simple as when, at age 60, he finally gets a drivers license - something most would take for granted - but here it signifies a return to the real world - and Ozzie has come full circle to embody that 3rd Sabbath album title "Masters of Reality").
paul sandberg
Super Reviewer
God Bless Ozzy Osbourne Quotes
There are no approved quotes yet for this movie.