God Help the Girl
(2014)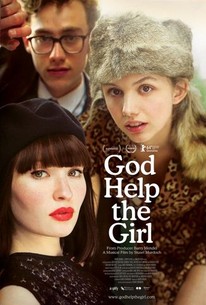 TOMATOMETER
AUDIENCE SCORE
Critic Consensus: While it may strike harder-hearted viewers as excessively twee, God Help the Girl floats by on its sweet charm and talented cast.
Movie Info
In God Help the Girl, writer/director Stuart Murdoch creates a poignant coming-of-age story that doubles as a sublime indie-pop musical from one of indie pop's biggest songwriters. The project began as a suite of songs, written while Murdoch was between records and tours as lead singer of Belle & Sebastian. He nurtured it for nearly a decade into a fully formed film, set in the bohemian fantasia of Glasgow's West End, which is populated by mods, rockers, and emo kids who have no qualms about breaking into song and dance. (c) Amplify
News & Interviews for God Help the Girl
Critic Reviews for God Help the Girl
Audience Reviews for God Help the Girl
Liked this. Not my usual thing at all, being a musical, but most of the songs are good and I liked the style of the whole movie. I think I would wear just about everything Emily wears here! It maybe could have been slightly shorter, and Cassie's voice irritated me, but mostly good.
Nicki Marie
Super Reviewer
Belle and Sebastian's songs highlight this story about a depressed woman who forms a band with a quirky hipster. Tonally inconsistent, God Help the Girl splits its personality from a so-quirky-it's-sweet love-ish story to a sad tale about a woman's struggle with mental illness. It is as though director Stuart Murdoch couldn't figure out what story to craft with the assortment of songs. Emily Browning, Olly Alexander, and Skins and Game of Thrones alum, the ever-delightful Hannah Murray all give hipster-cute performances that should be in a different movie, one that actually takes advantage of their charms. Overall, if you're tired of the hipster aesthetic, you should see the opposite of this film.
Jim Hunter
Super Reviewer
Sometimes a not-quite-good movie comes along and wins you over, despite it's many obvious flaws. GOD HELP THE GIRL is one of those films. What began as a concept album by Stuart Murdoch, co-founder of the Scottish indie pop group, Belle & Sebastian, has become a twee British musical about a troubled girl finding her voice. For those unfamiliar with the band, they produce ethereal , string-laden music highly reminiscent of 60s pop, with some of their projects emulating the sounds of girl groups and the quiet productions of the late Kirsty MacColl. One could easily call them precious if it weren't for their staggeringly beautiful melodies. Murdoch, who wrote and directed, has been working on this film for the better part of a decade, and the results are best described as maddeningly indelible. As the movie begins, Eve (Emily Browning) escaped a mental hospital where she's being treated for anorexia and other issues. She eventually meets up with James (Olly Alexander) and Cassie (Hannah Murray) in Glasgow and forms a band. This trio may appear to be sullen trust fund babies, but the music that comes out of them is quite lovely. Filmed on a Kickstarter low budget, GOD HELP THE GIRL works best as an evocation of the wistfulness of a great song. As a character study, however, it's severely lacking. Despite her many problems, I never felt truly connected to Eve. Perhaps it's her hipster presentation, but her performance, while terribly sweet, feels a tad remote. There's a wise statement James makes about artistic genius at the film's end, where I thought things almost came together, but it never got there entirely. I can't say I cared what happened to Eve or her friends, but I couldn't wait to hear them sing another song. Lyrically, things are problematic. They couldn't be more on-the-nose if they were literally written ON MY NOSE. Eve simply sings her thoughts, or what she's doing at any given moment. A wonderful exception is the song COME MONDAY NIGHT, which is a true musical masterpiece. As a film, there are many music video style interludes and sun-dappled Super 8mm shots which add to the woozy rush of it all, but I wish a little more care had been taken with the main characters. Everything feels too light, even when dealing with serious mental and physical issues, and the pacing turns plodding at times. A similar musical, 1982's Starstruck by Gillian Armstrong, mined similar territory but succeeded in forging a connection between its main character and its audience all wrapped up in a driving, new wave energy style. Still, GOD HELP THE GIRL is an original, perfect realization of the Belle & Sebastian aesthetic. If you want to experience a homespun singing-in-the-streets musical that'll remind you of a simpler time where daydreaming at album cover art or creating memories with your friends was your life, you could do much worse.
Glenn Gaylord
Super Reviewer
God Help the Girl Quotes
There are no approved quotes yet for this movie.