God Told Me To
(1976)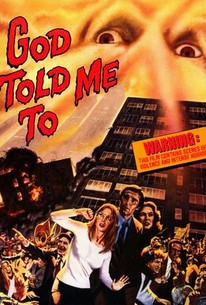 Movie Info
A New York detective investigates a series of murders committed by random New Yorkers who claim that "God told them to."
Critic Reviews for God Told Me To
Audience Reviews for God Told Me To
½
A very strange and always intriguing combination of detective crime drama and supernatural horror that must have inspired David Cronenberg with his films and would later be the stuff of films like Angel Heart, with an ending so bizarre that it should be remembered for its audacity.
Carlos Magalhães
Super Reviewer
½
Larry Cohen might not be the most sophisticated filmmaker but he is one of the most unbridled in terms of the inherent lunacy of New York. In the harrowingly scary 'God Told Me To', a sniper shoots bystanders from a water tower and Tony Lo Bianco is nonplused to unearth that the culprit committed the heinous in the name of God. Richard Lynch is photographed in a fluorescent halo that gives him both a messianic aura and an otherworldly glow. He is a genuinely galvanizing figure in a furnace room scene where Lo Bianco is unscathed during an uncontrollable fire. Somehow the vise grip wreathes the viewers with an enigmatic angle with Lo Bianco's inquiry over immaculate conception and the second coming of a Christ-like figure. The crisis-of-faith storyline overrides the brainwashing horror but 'God Told Me To' is a crazily ambitious gem in Cohen's forte.
Cory Taylor
Super Reviewer
I can't honestly say I enjoyed this, not entirely anyways. It had a few good moments in it, but not enough to warrant repeated viewings. It started out ok, with everybody getting shot at random...it was actually quite comical. :) I'm still confused on the whole God/Alien/Supreme Being device in the plot, but oh well. It was an interesting attempt anyway.
Tim Salmons
Super Reviewer
God Told Me To Quotes
There are no approved quotes yet for this movie.