The Godfather, Part II
(1974)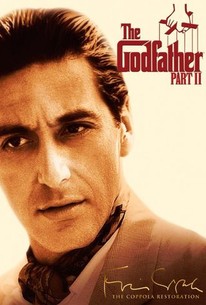 TOMATOMETER
AUDIENCE SCORE
Critic Consensus: Drawing on strong performances by Al Pacino and Robert De Niro, Francis Ford Coppola's continuation of Mario Puzo's Mafia saga set new standards for sequels that have yet to be matched or broken.
The Godfather, Part II Videos
The Godfather, Part II Photos
Movie Info
Francis Ford Coppola's legendary continuation and sequel to his landmark 1972 film, The Godfather, parallels the young Vito Corleone's rise with his son Michael's spiritual fall, deepening The Godfather's depiction of the dark side of the American dream. In the early 1900s, the child Vito flees his Sicilian village for America after the local Mafia kills his family. Vito (Robert De Niro) struggles to make a living, legally or illegally, for his wife and growing brood in Little Italy, killing the local Black Hand Fanucci (Gastone Moschin) after he demands his customary cut of the tyro's business. With Fanucci gone, Vito's communal stature grows, but it is his family (past and present) who matters most to him -- a familial legacy then upended by Michael's (Al Pacino) business expansion in the 1950s. Now based in Lake Tahoe, Michael conspires to make inroads in Las Vegas and Havana pleasure industries by any means necessary. As he realizes that allies like Hyman Roth (Lee Strasberg) are trying to kill him, the increasingly paranoid Michael also discovers that his ambition has crippled his marriage to Kay (Diane Keaton) and turned his brother, Fredo (John Cazale), against him. Barely escaping a federal indictment, Michael turns his attention to dealing with his enemies, completing his own corruption. ~ Lucia Bozzola, Rovi
Critic Reviews for The Godfather, Part II
Audience Reviews for The Godfather, Part II
Thirty-seven years after this came out, it is still one of the most thrilling movies out there. Al Pacino and Diane Keaton have to be the most unlikely couple ever cooked up by Hollywood, but their chemistry is real. The story lines never seem implausable and they succeed in making criminals sympathetic. The scenes shot in Italy are so beautiful you can lick them. The flashback scene at Vito's birthday party when Michael announces he joined the Marines--after his father and lawyer-brother pulled strings to keep him out--is a brilliantly executed study in character. It is a real salute to Cappollo to say that when Michael Coreleone is alone at the end of the movie, you absolutely feel for him.
Bathsheba Monk
Super Reviewer
The sequel to Coppola's classic mafia crime story both continues the events around Michael Corleone and takes us back to his father's life story. Michael, wonderfully portrayed by Al Pacino, seems to get more ruthless, unsympathetic and paranoid while ruling his empire with an iron fist. He still has to fight the competition, deal with betrayal from his own ranks and deal with his broken marriage at the same time. That's interesting most of the time, but sometimes could have used some serious trimming. The film easily could have lost 30-45 more minutes to be much more leaner and to the point. Instead it is celebrating its own slowness a little too much. The flashbacks portraying Vito's story, now played by Robert DeNiro, do not exactly explain the man's thoughts and motivations. We get glimpses at his life every five years or so, but the decision to become the next Godfather remains somewhat in the dark. A well acted and filmed sequel, but it does not top the original film and is honestly a tad overrated, if judged by today's viewing habits.
½
One of the best sequels of all time, the depth of this one exceeds it's predecessor. DeNiro and Pacino are amazing.
Graham Jones
Super Reviewer
The Godfather, Part II Quotes
| | |
| --- | --- |
| Hyman Roth: | I didn't ask who gave the order, because it had noting to do with business. |
| | |
| --- | --- |
| Michael Corleone: | If you don't listen to me and marry this man, you'll disappoint me. |
| | |
| --- | --- |
| Hyman Roth: | Smaller piece. |
| | |
| --- | --- |
| Michael Corleone: | Keep your friends close, but your enemies closer. |