The Godfather, Part III
(1990)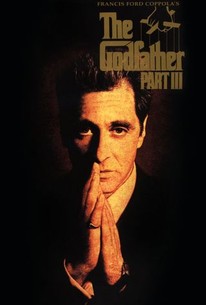 TOMATOMETER
AUDIENCE SCORE
Critic Consensus: The final installment of The Godfather saga recalls its predecessors' power when it's strictly business, but underwhelming performances and confused tonality brings less closure to the Corleone story.
The Godfather, Part III Videos
The Godfather, Part III Photos
Movie Info
After a break of more than 15 years, director Francis Ford Coppola and writer Mario Puzo returned to the well for this third and final story of the fictional Corleone crime family. Two decades have passed, and crime kingpin Michael Corleone (Al Pacino), now divorced from his wife Kay (Diane Keaton), has nearly succeeded in keeping his promise that his family would one day be "completely legitimate." A philanthropist devoted to public service, Michael is in the news as the recipient of a special award from the Pope for his good works, a controversial move given his checkered past. Determined to buy redemption, Michael and his lawyer B.J. (George Hamilton) are working on a complicated but legal deal to bail the Vatican out of looming financial troubles that will ultimately reap billions and put Michael on the world stage as a major financial player. However, trouble looms in several forms: The press is hostile to his intentions. Michael is in failing health and suffers a mild diabetic stroke. Stylish mob underling Joey Zaza (Joe Mantegna) is muscling into the Corleone turf. "The Commission" of Mafia families, represented by patriarch Altobello (Eli Wallach) doesn't want to let their cash cow Corleone out of the Mafia, though he has made a generous financial offer in exchange for his release from la cosa nostra. And then there's Vincent Mancini (Andy Garcia), the illegitimate and equally temperamental son of Michael's long-dead brother Sonny. Vincent desperately wants in to the family (both literally and figuratively), and at the urging of his sister Connie (Talia Shire), Michael welcomes the young man and allows him to adopt the Corleone name. However, a flirtatious attraction between Vincent and his cousin, Michael's naïve daughter Mary (Sofia Coppola) develops, and threatens to develop into a full-fledged romance and undo the godfather's future plans.
Critic Reviews for The Godfather, Part III
Audience Reviews for The Godfather, Part III
After a break of more than 15 years, Francis Ford Coppola and Mario Puzo reunited for this: the long overdue final chapter of the saga of the Corleone crime family. And yes, while I agree that this is the weakest of the trilogy, it's not a bad movie, and not nearly as awful as everyone regards it as being. Do I wish it were better? Of course. Do I understand why this didn't match the others? Maybe. I mean, so much time passed between films that maybe it was inevitable that they'd hit a pot hole and stumble eventually. Saying that it sucks because third films have a reputation of being isn't a good excuse. I'm just happy that we finally got a conclusion, and that, despite the flaws, it wasn't worse. The plot mixes together an aging and bitter Michael reflecting on his life, trying to finally go legitimate in the face of an oncoming mob war with fictionalized portrayals of the death of Pope John Paul I and the Vatican Banking Scandal of the early 80s. To call this ambitious is a major understatement. I do like that it tried to weave in real events, especially ones that are so fascinating. The soap operaish elements are good to, but also where the problems are, mainly the oft-mentioned casting of Coppola's daughter Sofia (before she became a director) as Michael's daughter, and the rather underwhelming way things pan out. I do think the ending is rather fitting given the big picture, though. Sofia herself admits she's a terrible actress, and was only there because Winona Ryder was unavailable. The character, I think, was supposed to be awkward, and that Coppola's performance just happened to be so wooden and uninspired because her dad and Puzo were in a rut and couldn't think of a way to do it better. At least Keaton and Pacino elevate things. It's also good seeing Garcia appear in an interesting call back to the first film. The production values, cinematography, etc are top notch. This is a grand epic on a grand scale. Yeah, the writing (in some areas) is troubled, but I applaud the ambitiousness. The film has problems, but I refuse to call it a bad film, because, in all honesty, it really could have been far worse.
Chris Weber
Super Reviewer
½
The Godfather Part 3 is the final and the weakest in the Godfather trilogy, but I am not saying it was not bad at all, in fact it was a beautiful conclusion and I loved it. The story now follows Michael as an old man, and he must deal with his life that is soon coming to an end. The plot is much more complex and great than I make it sound, it was incredible how even after all these years Francis Ford Coppola was still able to create a genius conclusion the Corleone story that exceeded my expectations in almost every way, and I can honestly say the ending made me tear up a bit. The cast is just as good now as they were back then, Al Pacino and Diane Keaton were great, and Andy Garcia was a great addition I think, he really helped the story. The score makes you think back on all the wonderful moments in the past films, I just always love the score in these movies. The Godfather Part 3 had one fatal flaw, it didn't include anything to do with Vito Corleone, they could've added something to add his story some more like the second film did, but other than that this is one of the greatest threequels ever made, possible #2 (#1 being Toy Story 3), but anyways, I loved the final installment, and I honestly don.t understand all the negativity from critics, oh well, I guess they made them a offer they couldn't refuse.
Jim Careter
Super Reviewer
This is it: The end of the greatest film trilogy of all time and one that has yet to be beaten. Every moment of the previous films led up to this film and, for the most part, it does not disappoint. Now, this film has something of a reputation of being underrated and being a terrible ending to the saga of the Corleone crime family. After me watching it, I do not find this as a terrible ending. Yes, it does not grab you like how the first two did, but if you allow yourself to re-fall into the world of Michael Corleone (Al Pacino), you are in for a bittersweet ride as he tries to redeem himself in the eyes of the world and in the eyes of his children and, mostly, the eyes of the woman he loves: Kay Adams (Diane Keaton). When I first saw this film, the one thing that got to me was the first twenty minutes. I am not ruining anything by saying this, but the complete twenty minutes is complied by stock footage of the first two films and they all have to deal with Michael and Kay as we see where they are when part III starts. It does set the tone for what is to come and when we see it, it will surprise you by one person who passes. My reaction to the film was completion. The first film left me exhilarated. The second film left me with sadness with how Michael destroyed the empire his father built. This film left me with completion as we watch what is the true end to Don Vito Coleone's family. Is it sad? Yes. Will you shed some tears? Yes. And will you be left wanting more? No. This film fills you up and you realize that there can never nor should their be any other film in this saga. It is about Michael and it ends with Michael. One of the greatest crimes, as I said, about this film would be that it is underrated. That is true. This is a good to great film that, while it is not up their with the likes of its prequels, is worthy of the title of The Godfather and is just exhilarating. Now, let's get down to the details. Okay, for direction, we have Francis Ford Coppola returning for the final time to compose this film. When he takes this film, he does not completely take the film seriously, and my guess is this: He knows he had raised the bar beyond too high with Part II and as such, tries to make this film like any other sequel, but does so with honor. Some of the scenes in this film are beautifully shot and filmed. Mostly those that deal with The Vatican and Sicily that this film takes place in. For those areas, you can tell that Coppola as respect for those lands and he makes damn sure that they are filmed with respect and not sloppily. Visually, this film is gorgeous. Now, with him conducting the actors, he does mostly a good job with them, but a certain few just are not that good and could have been beyond better job, but looking back at how the story is, it might have been for the best. But, it would have been better if certain things were better. The only other thing that I can say about this film's direction is the ending. Just, how tragic it is with two shocking deaths and how it is filmed transcends through the screen and effects us, the audience. Coppola has made us part of this crime family and we have started to love and care about each and every member. When these deaths happen, Coppola makes sure that we shed tears during so. Now for acting. Pacino and the rest of the cast from the previous film (including some people we have not seen sense the first film) all have a part in this film even if it is just something like an arm or the presence of someone. This film was meant to go off with a bang, and the actors all do a beyond perfect job in the help of ending this film. But one particular character and actress has been talked about nonstop in talks of this film and is the one that most people blame for the downfall of this film. The actress in question is the real life daughter of the director: Sophia Coppola. Now, she plays the very bubbly and happy daughter of Michael and she is basically oblivious as to the extent of her family. She is aware of what happens, but she plays the character has someone who just does not care. This saddens me because I would of liked it if she were more serious about the evils that her family has done, but at the same time I can understand why it is that she played the character this way. Mary Corleone was raised by her mother to not be in this world. While Mary was in some early attacks during the previous film, she is mostly unaware of the rest of everything except for some bits she was told. She was raised away from the evil and wicked of this world and as such, she is not at all fully aware of how serious this world is. This is one of her flaws and this flaw was made by Sophia Coppola. While I am acceptable towards this one particular incident, I do wish that the character was more understanding of the situation and more intelligent in some areas and subplots she is associated with. Another person I want to mention is the actress of Connie Coppola: Talia Shire. Sense the first film, Connie has been my third favorite character in the entire trilogy. Why, you might ask? Simple: she is one of the most developed characters in the entire trilogy. In the first film, she was not interested with the family business and when Michael took over, she hated him due to how corrupt he became. In the second film, she was a total tramp through out, constantly with different men, forgetting about her own children, and not caring about her family. Until the end of the second film when she realizes the true horror of her own crimes and begs for forgiveness for her doubt and hatred of her brother. In this film, she is a totally different person. She now is taking control over parts of the family, ordering some executions, and above all else, being the one person that never left Michael as he continued down this spiral. Talia Shire gave this performance her entire power and strength and what resulted was one of the greatest characters I have ever seen in film. It is a pity that she was not nominated for this performance at all. She deserved recognition. Now, I told myself that I was not going to bring him up, but when talking about The Godfather, it is hard not to bring him up. Time for me to talk about Al Pacino. As a character and as an actor, he has grown tremendously from the first film. His character was tragic, evil, and at times a great antihero and it was all because of Al Pacino that we have loved and hated Michael so much. With this film, he makes the performance hopefully yet tiresome which is exactly how the script calls for him. I will admit that, like in the previous film, one particular scene in this film had me in tears that he was in, and if you have fallen in love with the story of The Godfather, then you will have that same reaction when you see this film. Pacino also makes this character tragic as Michael starts to regret all of the evil in his life and tries to make everything good. Pacino gives a strong performance and I find it a crime that he was not nominated for best actor. Pity. With the acting in general, it does disappoint me that the only two awards that were won were for Sophia Coppola and those were Razzies she won. I do not know what people were expecting with this film, but they had too high of expectations. Next the script. Being written again by the author of the original novel that spawned this film (The Godfather), this film's script just works with the tale and I am glad that Mario Puzo written it. He understood that his creation has created it's own life and he ended it before things got too stupid or out of control. Now, while the dialogue was no where near as good as the previous films, it was well written enough with plenty of those meetings talks that were in the previous film and the scenes that were spoken in Italian. Puzo had a gift for writing and, while this film did not show his true potential, this film does show very strong signs of that. Finally the score. Returning again is the composer for the previous two The Godfather films Nina Rota. The score is still breathtaking as it usually is, but this film it ends on a sad, but wonderful note as the saga comes to a close. My only true complaint (which is minor) is that I would wish that more was done to the score. Mostly to return it to how it was in the first film: One piano piece, numerous variations. But, overall, the score was beautiful and in numerous scenes, it worked. I like it. Overall, this is the true ending to the Holy Trilogy of cinema, and one that you should never miss. This is required viewing in cinema, regardless of what anyone else says.
Zach Brehany
Super Reviewer
The Godfather, Part III Quotes
| | |
| --- | --- |
| Archbishop Gilday: | "In today's world, the power to absolve debt is greater than the power of forgiveness." |
| Archbishop Gilday: | In today's world, the power to absolve debt is greater than the power of forgiveness. |
| | |
| --- | --- |
| Michael Corleone: | I made confession, Connie. I confessed my sins. |
| Connie Corleone Rizzi: | Why Michael, that's not like you. You don't have to confess your sins to a stranger. |
| Michael Corleone: | It was the man. A good man. A true priest. He changed things. |
| | |
| --- | --- |
| Michael Corleone: | Thunder can't hurt! Harmless noise! Bullshit! Deceitful little fuck! Altobello! You fuck! |
| | |
| --- | --- |
| Calo: | "The Corleone's left drugs, so New York is weak, and Palermo is strong." |
| Calo: | The Corleone's left drugs, so New York is weak, and Palermo is strong. |
| Don Tommasino: | "Your enemies always get strong on what you leave behind." |
| Don Tommasino: | Your enemies always get strong on what you leave behind. |