Gods and Generals
(2003)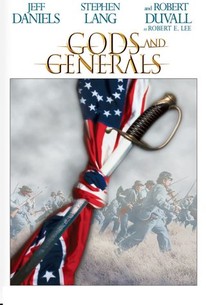 TOMATOMETER
AUDIENCE SCORE
Critic Consensus: Filled with two-dimensional characters and pompous self-righteousness, Gods and Generals is a long, tedious sit. Some may also take offense at the pro-Confederate slant.
Movie Info
Director Ron Maxwell and producer Ted Turner return to the glory and tragedy of the Civil War in this historical drama, a prequel to Gettysburg, which examines the early days of the conflict through the experiences of three men. Col. Joshua Lawrence Chamberlain (Jeff Daniels) left behind a quiet life and a career as a college professor to become one of the Union's greatest military minds. Gen. Thomas "Stonewall" Jackson (Stephen Lang) was, like Chamberlain, a man of great religious faith who served in the defense of the Confederacy. And Gen. Robert E. Lee (Robert Duvall), who led the Confederate army, was a man who was forced to choose between his loyalty to the United States and his love of the Southern states where he was born and raised. As Chamberlain, Jackson, and Lee are followed through the declaration of war and the battles at Manassas, Antietam, Frederickburg, and Chancellorsville, the film also introduces us to the many supporting players in the epic tale of the war between the States, among them the women these men left behind, among them Fanny Chamberlain (Mira Sorvino) and Anna Jackson (Kali Rocha). Based on a novel by Jeff Shaara, Gods and Generals also features a new song written and performed by Bob Dylan. ~ Mark Deming, Rovi
Critic Reviews for Gods and Generals
Audience Reviews for Gods and Generals
I sat throw the long nearly 6 hour cut of the film drinking Tea and by the end i only asked "WERE THE FUCK DID MY DAY GO?". Gods and Generals is a dry hollow epic thats boring and has woodern acting and camerea work thats nothing short of standered. Some nice music but thats it this movie is crap lol
½
A great Civil War Flim, The scenes are as realistic as its going to get, will teach you much about the civil war that wasn't in those high school books? Do they even teach about the civil war anymore, or is it not politacl correct?
Bruce Bruce
Super Reviewer
I do have a problem with this one. IT SUCKS. One of the most boring films in the history of bad boring films.
Curtis Lilly
Super Reviewer
Gods and Generals Quotes
| | |
| --- | --- |
| Gen. Thomas 'Stonewall' Jackson: | Tell me general, do you expect to live till the end of this war? |
| Brig. Gen. John Bell Hood: | Oh... I do not know, but... I'm inclined to think I will. I expect I will be wounded. And you general? |
| Gen. Thomas 'Stonewall' Jackson: | I do not expect to live to see the end of this war. Nor can I say that without victory I would desire to do so. |
| | |
| --- | --- |
| Gen. Thomas 'Stonewall' Jackson: | Tell me general, do you expect to live till the end of this war? |
| Brig. Gen. John Bell Hood: | Oh... I do not know, but... I'm inclined to think I will. I expect I will be wounded. And you general? |
| Gen. Thomas 'Stonewall' Jackson: | I do not expect to live to see the end of this war. Nor can I say that without victory I would desire to do so. |