God's Gun (A Bullet from God) (Diamante Lobo)
(1977)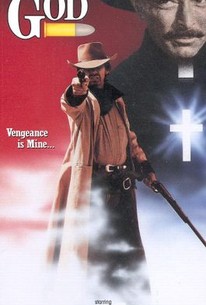 AUDIENCE SCORE
Critic Consensus: No consensus yet.
Movie Info
When a group of men attempt to murder a preacher, he revisits the gunslinging days of his past in order to exact revenge.
Critic Reviews for God's Gun (A Bullet from God) (Diamante Lobo)
Audience Reviews for God's Gun (A Bullet from God) (Diamante Lobo)
Extremely dull Western with a parade of the ancients in Van Cleef, Palance, and Boone. Was forced to watch against my will so I suppose that affects my reaction/revulsion. Only memorable part is a laughably gratuitous scene in a whorehouse run by Danning (there's a shocker) although I don't think there's any actual nudity, just a lot of legs & cleavage in a sad attempt to enliven this dead horse.
Doctor Strangeblog
Super Reviewer
½
True Spaghetti Western. Well it's filmed in Israel so does that make it a Jewish Western or a Spaghetti Western humm. Seriously it fits the bill for Spaghetti Western, My copy came from the Mill Creek 20 Pack Mean Guns and it was a poor quality reproduction, so if your looking for quality you might try a different production lab. In this Lee Van Cleef plays two parts in this movie A preacher (Father John and a Gun Slinger (Lewis). Jack Palace plays the bad guy as he did in many movies. I remember him from the TV series High Chappell. Leif Garrett is the young boy Johnny, son of the beautiful Sybil Danning. Well Preacher gets killed and his twin brother is out for revenge. Movie came out in 1976 so I imagine it might have gotten billed in NYC and a few other places, took a while to hit TV. If your a spaghetti Western Fan its a must, other then that this one might put you to sleep.
Bruce Bruce
Super Reviewer
God's Gun (A Bullet from God) (Diamante Lobo) Quotes
There are no approved quotes yet for this movie.