God's Lonely Man
(1996)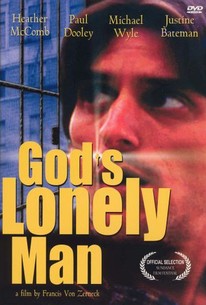 AUDIENCE SCORE
Critic Consensus: No consensus yet.
Movie Info
An unhinged city dweller becomes a vigilante as he tries to protect a troubled teenager. The fellow is Ernest, who came to LA in search of his fortune and who ends up addicted to coke and managing a pornographic video store. When he makes an awkward play for the boss's daughter, he loses his job. Unable to deal with it, he becomes really unstable. He murders his drug dealer and then becomes friends with the teen Christiane who is trying to cope with a stepfather who molests her and a mother who doesn't care. Ernest takes Christiane away from home and then helps her try to find her long-lost sister. Along the way he makes sure that anyone who ever harmed her is made to pay.
Critic Reviews for God's Lonely Man
There are no critic reviews yet for God's Lonely Man. Keep checking Rotten Tomatoes for updates!
Audience Reviews for God's Lonely Man
A film that's unknown by most. Disgusting, sad, and vile disturbing movie. Do not watch this one if you are easily offended. "As each relentless night turns towards day, Ernest Rackman turns towards violence to escape thoughts of loneliness and suicide. Then he poses as a police officer and rescues a young girl from her parent's apartment, where she was forced into a compromising life. Having discharged his violence, he plans to move forward with this new relationship, but the demons of loneliness and despair still haunt him." This film definitely takes a lot from Martin Scorsese's Taxi Driver, only this time our main hero(who's hooked on drugs 24/7), is trying to save a young girl from the dangers of child pornography/snuff films. Ernest Rakman, played by Michael Wyle, sure does know how to play a double of Robert De Niro's character in Taxi Driver very well. I kind of think of Ernest Rackman as an evil, and more sadistic twin brother of Travis Bickle(from Taxi Driver). As much as God's Lonely Man takes from Taxi Driver, it still stands out as a good film on it's own. The violence in this film is extreme as well, and toward the end it becomes very bloody. There's one part in this when they show glimpses of a child snuff film, and let me tell you, it is a nerve wracking and in your face raw experience. It's also followed by a massacre that will leave you stunned and speechless. This is by no means an easy film to swallow. The subject matter is harsh and it's followed by extremely nauseating dialogue. God's Lonely Man shows us the real horror that is out walking the streets, and reminds us that stuff like this is indeed happening. Nothing in this film becomes hard to believe and everything plays off very realistically, thanks to some very good acting. We have already seen this kind of character development before, especially in Taxi Driver, but God's Lonely Man shows us a similar hero doing something more, in a completely different situation. No matter how messed up on drugs and crazy Ernest Rakman was we need more people like him in the world. Maybe then children would be safer, but who knows? This film pushes the limits, even for an NC-17 rating(which it had received). As violent and disturbing as it is, I still do recommend this movie. We should all at times be reminded again and become more aware of what's going on out there(in this case being the danger of young children). But then again, if you are seriously easily offended...don't watch it. Other Review: "In 'God's Lonely Man' Frank von Zerneck Jr. has crafted a film with all the simplicity, beauty and elegant stealth of an adder. A lethal tale stripped to its primal elements, there is nothing about it that does not either hypnotize, sting or transport with strange beauty and chilling, corrosive terror. That it is a first film only makes it all the more stunning." - WES CRAVEN
jd cryptic
Super Reviewer
God's Lonely Man Quotes
There are no approved quotes yet for this movie.