God's Not Dead 2
(2016)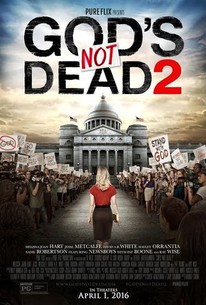 TOMATOMETER
AUDIENCE SCORE
Critic Consensus: Every bit the proselytizing lecture promised by its title, God's Not Dead 2 preaches ham-fistedly to its paranoid conservative choir.
Movie Info
A high-school teacher (Melissa Joan Hart) fights for the right to discuss Jesus in her public classroom. This sequel to the 2014 faith-based box office hit God's Not Dead also stars Jesse Metcalfe, David A.R. White and Ray Wise.
News & Interviews for God's Not Dead 2
Critic Reviews for God's Not Dead 2
Audience Reviews for God's Not Dead 2
½
Undercut by its poor writing and weak performances, God's Not Dead 2 is a rather cheesy religious drama. When a high school history teacher is suspended for talking about Jesus Christ in the classroom a legal battle ensues, with the teach trying to be true to her faith and the ACLU trying to destroy her career and make an example out of her. There are a couple of decent actors in the cast, including Melissa Joan Hart, Ray Wise, Jesse Metcalfe, and Ernie Hudson, but their performances are hampered by a bad script. At times it plays like a cheesy infomercial promoting the various Christian books and musicians that are worked into the film. Yet there are some compelling moments in the courtroom drama, and an earnestness to some of the characters and the message about religious freedom. Its heart is in the right place, but God's Not Dead 2 is just too plot heavy and melodramatic.
Dann Michalski
Super Reviewer
½
The creators behind God's Not Dead 2 won't admit it but their movie is pure science fiction; it exists in an entirely parallel universe that's topsy-turvy where atheists want to stamp out the last signs of Christianity and will use their collusion of government and media power to marginalize and eliminate freedom in the name of "tolerance" and "diversity." It's another heavy-handed moral parable that feeds into the persecution complex of its target audience, the same people who made 2014's God's Not Dead a surprise hit. While the sequel isn't nearly as mean-spirited and cruel (the godless characters don't have to die or get stricken with cancer this time), it's still speaking in code to stoke its audience's unfounded fears of losing religious liberty. We follow an AP History teacher (Melissa Joan Hart) who gets into trouble from making a purely literary connection with the teachings of Jesus and non-violent revolutionaries Gandhi and MLK. The school board wants to "wash the blood off its hands" and she's taken to court where her very faith is on trial and where her hunky lawyer has to prove Jesus historically existed. The entire premise is laughably preposterous given the context of her pedagogical reference. A student makes the Jesus connection and asks about it, and the teacher was not endorsing a religion but merely quoting a piece of literature as it pertains to those inspired from it. There's no time for subtlety in this movie because we have a martyr that needs roasting, and in comes an ACLU lawyer played by Ray Wise (God bless this actor saying yes to everything) who may very well be the devil. Wise is the lone source of entertainment for me. There's also a nasty TV pundit who says Christians are the real danger in this country (replace "Christian" with "Muslim" and the TV segments start to sound more familiar from our own world). Several characters from the first film pop back up but with very little to do. God's Not Dead 2 is a pretty lackluster, laughable, and theologically simplistic morality tale but at least it isn't as risible and offensively insincere as the original film. Like the first film, the credits close on a list of court cases the filmmakers say inspired the movie. Except upon minimal research, not one of these cases echoes the movie I just watched. All of these cases involve intolerance against accepting gay marriage or fulfilling birth control and/or abortion services, all legal and protected aspects of our culture. I'm reminded of the quote "when you're accustomed to privilege, equality feels like oppression." I wonder if this kind of thinking would have lead an enterprising filmmaker telling the "brave story" of the segregationist standing up against government pressure to accept integrated schools. It's not far off. Nate's Grade: C-
Nate Zoebl
Super Reviewer
At times so on the nose that it becomes a wart on your sensibilities, God's Not Dead 2 vehemently preaches to the choir but actually shows some potential when it preaches to the jury. Mostly an excuse to sermonize to its target audience loudly and proudly, this sequel to God's Not Dead sadly misses an opportunity to course-correct faith-based movies from being heavy-handed schlock to becoming thought-provoking stock. Sure, a large portion of the flick wallops moviegoers over the head with Christian morals, but the story gets quite interesting when it enters the courtroom. Having an agnostic public defender put religious freedom on the stand presents some dynamic courtroom drama. Of course, the movie never strays too far from the pulpit (sample dialogue from the villainous opposing attorney: "I hate what people like your client stands for and what it's doing to this country"), but it makes you wonder what would happen if flicks of this ilk stopped pandering to its captive audience, used some intelligent design, and employed subtlety. We might actually have a Disinherit the Wind on our hands. In this PG-rated faith-based drama, a high school teacher (Hart) gives a reasoned response when asked a question in class about Jesus, landing her in deep trouble and in danger of expelling God from the public square once and for all. Channeling Clarissa Preaches It All, Melissa Joan Hart does a fine job as the woman at the center of this courtroom drama. A budding romance with her counsel (played by Jesse Metcalfe) shreds credibility, but so do all of the loose plotline strands that don't involve putting religion on trial. Meanwhile, Ray Wise makes for a great heavy, while Fred Thompson - in one of his last roles before succumbing to cancer - spends an all-too-brief amount of time on-screen. This re-tread of God's Not Dead won't make or break any of their careers, but - like the audience - they should all want for more when it comes to story. Bottom line: Deuce Ex Machina
God's Not Dead 2 Quotes
| | |
| --- | --- |
| Grace Wesley: | I would rather stand with God and be judged by the world than stand with the world and be judged by God. |
| | |
| --- | --- |
| Grace Wesley: | I would rather stand with God and be judged by the world than stand with the world and be judged by God. |
| | |
| --- | --- |
| Grace Wesley: | I'm not going to be afraid to say the name Jesus. |
| | |
| --- | --- |
| Grace Wesley: | What makes non-violence so radical is it's unwavering commitment to a non-violent approach. |