Godspeed
(2010)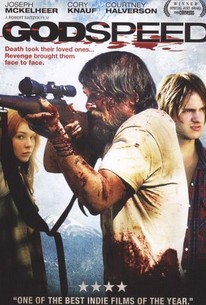 Movie Info
A man learns too well that one shouldn't promise more than he can actually deliver in this independent thriller. Charlie (Joseph McKelheer) lives in Alaska with his wife, Rebecca (Jessica Ward), and young son, James (Ben Loosli). Charlie makes a modest living as a preacher and faith healer, but he's come to question his faith, and tries to dull the pain of doubt with alcohol and affairs with other women. Charlie's life is turned upside down when Rebecca and James are brutally murdered; six months later, he's living in isolation in a trailer in the wilderness, having turned his back on his old life and given up on religion. Charlie receives an unexpected visitor in Sarah (Courtney Halverson), a lovely young woman who tells him her father is severely ill and could use his help. Against his better judgment, Charlie agrees to join Sarah for the long trip back to her family's home, but when they arrive, her brothers, Luke (Cory Knauf) and Tim (Hallock Beals), make it clear they have some unpleasant business with Charlie. Directed by Robert Saitzyk, Godspeed received its world premiere at the 2009 CineVegas Film Festival, where it received a prize for "Exceptional Artistic Achievement."
Critic Reviews for Godspeed
Audience Reviews for Godspeed
The things one's faith and beliefs will make them do; finding justification in taking another's life.
Movee Critic
Super Reviewer
Godspeed Quotes
There are no approved quotes yet for this movie.