Godzilla (Gojira)
(1954)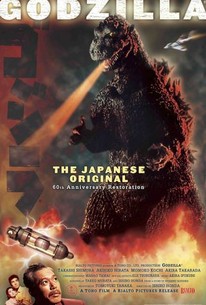 Movie Info
One of the longest-running series in film history began with Ishiro Honda's grim, black-and-white allegory for the devastation wrought on Japan by the atomic bomb. As his visual metaphor, Honda uses a 400-foot-tall mutant dinosaur called Gojira, awakened from the depths of the sea as a rampaging nuclear nightmare, complete with glowing dorsal fins and fiery, radioactive breath. Crushing ships, villages, and buildings in his wake, Gojira marches toward Tokyo, bringing all of the country's worst nightmares back until an evil more terrible bomb -- capable of sucking all the oxygen from the sea -- returns the monster to its watery grave. The original film is chilling, despite some rather unconvincing man-in-a-suit special effects, and brimming with explicitly stated anti-American sentiment. All of that was removed for the U.S. release directed by Terry Morse. It was replaced with bad dubbing and tedious added footage starring Raymond Burr. The resulting edit was just another monster movie, but was still popular enough to assure future Toho Studios monster films a wide American release.
News & Interviews for Godzilla (Gojira)
Critic Reviews for Godzilla (Gojira)
Audience Reviews for Godzilla (Gojira)
½
The original Japanese classic before it was re-edited for the American audience is this fun catastrophe movie that offers a smart commentary on nuclear tests in a postwar era, showing a Tokyo devastated by a monster born as a consequence of the destructive actions of man.
Carlos Magalhães
Super Reviewer
½
With a score that will leaving you cheering, miniatures that will literally make your heart race into believing it is real, "Gojira" (Godzilla) is terrific for it's time. As the myth of Godzilla comes to life and they realize it is more than just a belief, the people of Japan must work together and discover a way to destroy Godzilla once and for all, as he tears down and burns every inch of Japan. The script of this film seems obvious to a fault, but the action makes up for every flaw or laughable edit. I can't complain much about this film, because back in 1954 there was only so much available budget-wise to make this a great film, and for it's time, it is a brilliant film. I loved every minute of this film, but it just needs a little more work on it's thinly written screenplay. "Gojira" (Godzilla) is a fantastic piece of classic cinematic history.
½
There ain't nothing like watching a guy in a rubber suit squashing cardboard buildings. But as silly as its special effects may be in 2014, Gojira is a timeless masterwork. The 650 foot monster is never portrayed as purely evil. Because it evolved out of misguided nuclear testing, the creature becomes a complex metaphor for the anxieties that plagued Japan in the wake of the H-bomb and World War 2. The film captures this in dark and honest fashion.
Edward Boxler
Super Reviewer
Godzilla (Gojira) Quotes
| | |
| --- | --- |
| Dr. Kyohei Yamane: | If we keep conducting nuclear bomb tests, it is possible that another Godzilla may appear somewhere in the world. |
| | |
| --- | --- |
| Daisuke Serizawa: | Ogata, humans are weak animals. |