Godzilla Against Mechagodzilla (Gojira tai Mekagojira)
(2002)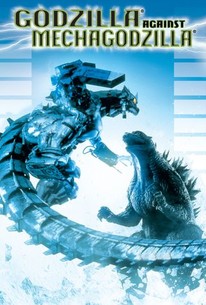 AUDIENCE SCORE
Critic Consensus: No consensus yet.
Godzilla Against Mechagodzilla (Gojira tai Mekagojira) Photos
Movie Info
Godzilla is pitted against his mechanical counterpart, Mechagodzilla. Humans are under attack by the green beast. With little hope left, they build the giant man-piloted robot Mechagodzilla to defend the world. ~ Matthew Tobey, Rovi
Critic Reviews for Godzilla Against Mechagodzilla (Gojira tai Mekagojira)
Audience Reviews for Godzilla Against Mechagodzilla (Gojira tai Mekagojira)
½
Haruo Nakajima. With the recent death of the guy who played 'The King Of The Monsters' I decided to go old school and revisit some of the old stompin' grounds of my youth, and I was not disappointed. So much personality displayed by the star! And empathy. What? You're minding your own business, destroying Toyko, and they make some robot to destroy you in turn?!? Are you kidding me??? Of course there's gonna be anger. Of course. Duh. Classic stuff, and from the only people who've had an atomic bomb dropped on them. There's tradition for you. So they know terror. Duh. Good stuff.
Kevin M. Williams
Super Reviewer
½
Godzilla Vs Mechagodzilla is one awesome entry in the series. The entertainment value of this entry is terrific and makes it a definite must see. I really loved the new direction of the Godzilla movies ever since the reboot and each entry have delivered amusing to the viewers. However this one is the best one since Godzilla 2000, and it most definitely is a fine example of what makes a Godzilla film stand out among other monster films. The direction is very good and the director comprehends the material and in turn directs a worthwhile entry that will certainly entertain any viewer looking for a good time. The film certainly has a lot to offer and the script and story are well done. The fight is highly entertaining and it definitely is one of the finer among the last entries in the series. If you loved every entry, then this will certainly delight you, and is worth watching you want to see Godzilla up against a classic foe. This is a well directed picture that is certainly well constructed and layered. The movie is exciting and thrilling and delivers what you want out of a monster film. The flaws are there, but the entertainment value makes up for it and it is among one of the best, most memorable films in the series. I thoroughly enjoyed the film and it is one of my favorite of the series as well. Go into this one expecting a memorable viewing experience.
I'm not really a fan of the 3rd reboot series of Godzilla. I feel they lack imagination and the ambition of the 2nd reboot, and just have too much cheese so they feel more like the WWE than a monster (kaiju) film.
Bryan Davis
Super Reviewer
Godzilla Against Mechagodzilla (Gojira tai Mekagojira) Quotes
There are no approved quotes yet for this movie.