Godzilla, Mothra and King Ghidorah: Giant Monsters All-Out Attack
(2001)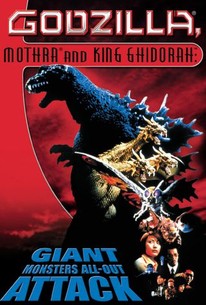 Godzilla, Mothra and King Ghidorah: Giant Monsters All-Out Attack Photos
Movie Info
The giant scaly lizard surfaces and melts (with his flamethrower breath) a U.S. submarine. Enter an old Japanese mystic who summons the sacred beasts of Yamato -- King Ghidorah, Mothra and Baragon -- monsters that protected Japan in ancient times. The stage is now set for the ultimate smackdown.
Critic Reviews for Godzilla, Mothra and King Ghidorah: Giant Monsters All-Out Attack
Audience Reviews for Godzilla, Mothra and King Ghidorah: Giant Monsters All-Out Attack
It was only a matter of time till the filmmakers would make another massive monster film in the series and this is the result. This is a confident picture that really gives monster film fans what they want in an action packed thrill ride of a terrifying monster picture. This is a well executed movie that is a return to form in a way. Fans will be delighted at what they see. The film definitely brings old school elements and makes Godzilla a force to be reckoned with, which is a big plus for the genre fans who love these films. I really enjoyed the film and thought it was a terrific little flick. The film definitely delivers something ridiculous fun and it is worth watching if you want an effective monster film that delivers. I thought the plot was pretty good and well developed. The direction is good and effective and overall the film works well in being a memorable monster film that you soon won't forget. The action is good and it is worth seeing if you love the genre. The film is never dull and tiresome and it will keep you entertained from start to finish. Although it never is a great movie, this one stands out as mindless entertainment. This Godzilla film is good and this is a chaotic picture that is sure to please genre fans. The thrills of the action is what makes it worth
The director of the Gamera reboot takes a shot at doing Godzilla. This film is not considered cannon for the rest of the Godzilla films before or after, but more of a stand alone film. Of all the Godzilla sequels, this movie perhaps comes the closest to capturing the tone of the original 1954 film. The primary concept on both films was Godzilla was the enemy of mankind. While this idea has been brought up in several other Godzilla films, Godzilla is never as much of a threat to life on earth as he was in the original or in this film. Godzilla battles not one but three monsters this time around, all of whom were summoned to protect life against Godzilla. For me, Godzilla works best as the antagonist. And he is scary in this film. I feel this film had several elements going for it that would have been a great recipe for an even better film, but it was over ambitious and just lacked the financial backing to make those ideals more effective.
Bryan Davis
Super Reviewer
½
Godzilla is a horrible little bastard in this movie. He is truly badass. For once, he has no redemption, to the point that previous alien controlled villains are now guardians of the earth. This film grabs the human element by taking a father and daughter as an army captain and a TV reporter. The effects here are just fantastic. All the puppets, suits, CGI looks great, and we get more Godzilla/Human interaction than ever. I loved the shot where Godzilla arrives and throws a boat into the air, only for it to fall straight down onto the camera again. We get some exceptional long takes of cityscapes. It's fascinating to see so many monsters beat each other in what looks like a real city. These Godzilla movies also have the confidence to just let it play out rather than making me sick with constant edits. With a subtitle of Giant Monsters All Out Attack, you know this is gonna be good. Just a shame that Mothra and Ghidorah were slightly out of character.
Luke Baldock
Super Reviewer
Godzilla, Mothra and King Ghidorah: Giant Monsters All-Out Attack Quotes
There are no approved quotes yet for this movie.