Godzilla vs. Gigan
(1972)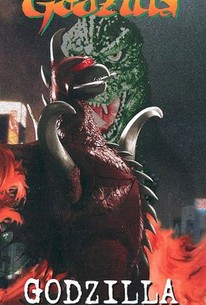 Movie Info
One of the cheapest entries in Toho's Godzilla franchise, this alternately noisy and talky entry finds yet another batch of goofy-looking insectoid aliens plotting to conquer humanity -- from their headquarters deep within a Godzilla theme park! -- using the double-team monster threat of Gigan (a metallic bird-creature with a handy table saw in his belly) and the three-headed Ghidorah. It is somehow apropos to the movie's comic-book premise that the nominal human "hero" is a washed-up cartoonist, who teams up with his equally-ineffectual pals (not counting his butt-kicking girlfriend). Eventually it is left to the Big G to square off against the extraterrestrial foes, with the occasional (but mainly inadequate) aid of Angilus for some tag-team wrestling action (which ranks among the silliest in Toho history). The paltry budget is also quite apparent this time out, as indicated by frequent use of recycled footage from previous monster films, particularly Destroy All Monsters. The film's only real highlight comes in the form of a plot twist which grants Godzilla his first speaking role. ~ Cavett Binion, Rovi
Critic Reviews for Godzilla vs. Gigan
Audience Reviews for Godzilla vs. Gigan
½
I love the design of Gigan. He is a great monster and an awesome villain. But every scene witha human being will make you cringe.
Bryan Davis
Super Reviewer
Godzilla and a giant alien chicken. Great stuff. It's back to the very basic for Godzilla after many were disappointed by the previous effort (I loved it). It kind of throws away everything Godzilla started as. Now we have a fairly kid friendly film, in which aliens design an amusement park in the hopes of controlling some of the monsters from monster island. A manga artist uncovers this bizarre plot and soon the aliens release their own monster, Gigan. Fun fights and frolics abound, even if these movies are getting rather crowded.
Luke Baldock
Super Reviewer
½
Again the lacking entries continue with Godzilla vs. Gigan, this is a cheaply made movie that has everything wrong going for it. The film is a poorly constructed affair and it really is clear that the filmmakers are not even trying to make something fun for viewers. In terms of delivering the fights, they are lackluster and quite boring. By this point, the films were simply recycling old ideas and not even trying to create something truly entertaining for viewers to enjoy. IU really hated the film, and aside from the first few films in the series, the entries by this point in the series, was simply not worth your time and was too silly, ridiculous to actually enjoy. I know the films were silly in the past, but they had at least good storylines and good monsters for Godzilla to fight. Acting wise, the film suffers and with a lacking plot, it ends up failing. The director clearly didn't care for the series, and it shows. This is a mess that just doesn't do other films in the series justice. I really didn't enjoy the film and this is a painful one to watch. If you're looking for something fun, and entertaining, this isn't the Godzilla film to watch. The film lacks in everything that has made the previous outings fun, memorable and mindless entertainment. Don't expect anything original with this one, or avoid it altogether, you'll be glad you did. The series at this point was simply stuck in a rut, and didn't have anything worthwhile left to tell on-screen.
Godzilla vs. Gigan Quotes
There are no approved quotes yet for this movie.