Godzilla Vs Hedorah (Gojira tai Hedorâ) (Godzilla vs. the Smog Monster)
(1971)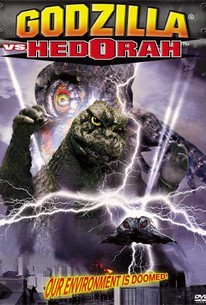 Godzilla Vs Hedorah (Gojira tai Hedorâ) (Godzilla vs. the Smog Monster) Photos
Movie Info
This eco-conscious entry pits the Big Green Guy against a living mass of industrial sludge dubbed "Hedora." Capable of splitting into numerous satellite monsters and secreting sulfuric acid, Hedora grows exponentially larger as it absorbs more pollution and merely divides again when Godzilla tries to attack it. After wiping out a disco with its toxic secretions (from the monster, not the music), Hedora goes airborne and attacks Mount Fuji, where blasts of electricity and Godzilla's atomic breath finally burn it to a crisp. ~ Cavett Binion, Rovi
Critic Reviews for Godzilla Vs Hedorah (Gojira tai Hedorâ) (Godzilla vs. the Smog Monster)
Audience Reviews for Godzilla Vs Hedorah (Gojira tai Hedorâ) (Godzilla vs. the Smog Monster)
½
Imagine putting 70's psychedelic, kiddie antics, eco-thriller, horror, surreal art-house, and Godzilla into a blender. After mixing these things in the blender, you end up getting Godzilla vs. Hedorah aka Godzilla vs. The Smog Monster. This Godzilla outing is one of the weirdest entries in the series, but it is also one of the better entries of the Showa era. Just like the first film were Godzilla provided social commentary on nuclear weapons, "Godzilla vs. Hedorah" gives social commentary on pollution and civilization's negative effects on the environment. Godzilla's adversary, Hedorah, feeds off human pollution and waste. One thing I like about this film is it shows people getting hurt or killed during the monster attacks, which gives some weight to the monster destruction. A sympathetic character actually dies (at least, I think he died). The film is full of funk music, cartoon segments, dream sequences, and moments of that are sincerely frightening. The film's eccentricities will either make or break the film for some people, the film is darker but at the same time more fun. Their is something oddly endearing about the film's weird tendencies. It manages to do something different with the Godzilla formula while at the same time remaining faithful to it. The film only has two major drawbacks. The monsters fights are pretty good overall, but sometimes their is too much standing around and waving arms. Godzilla also flies in this movie, which is really silly and cheesy. I laughed a lot during that scene but it could have easily have been left out. People should go into this movie with an open mind and not criticize it on the grounds that it is different from other Godzilla outings. This movie is Godzilla on acid, and whether you love it or hate it, it's an experience you won't easily forget.
Christopher Heim
Super Reviewer
After the disappointing Godzilla's Revenge, this follow up is a mediocre offering in the franchise and is no wonder that ideas were starting to get stale. This is the eleventh film in the Godzilla series. In terms of plot, it lacks significantly, unlike others in the series, and that's saying a lot considering that the Godzilla franchise has put him against some pretty ridiculous foes. However, at this point, it is clear that the filmmakers were stuck in a creative rut and it shows on-screen. Each entry would bec9ome sillier and more stupid by this time around. Though, it is slightly enjoyable, just for its camp value, this is a mediocre entry in the series. The ideas that were written in the film's script simply don't hold up, and Godzilla VS Hedorah lacks anything truly worthwhile for the viewer to enjoy. Yes, it campy, and for that, it's amusing, but for the standard Godzilla formula that you've come to expect, it disappoints due to the lack of truly entertaining monster battles. By this time in the series, the battles are tiresome, and boring. Not to mention that the films in the series were more and more geared towards kids, thus the material becomes more and more silly. The quality of films in the series would lack, and that's saying something considering that nearly every entry in the series involved monsters battling it out. However by this point, the films were just stagnant, boring and not worth your time due to the fact that they started lacking in amusing content. The ideas that the filmmakers were coming up were pretty dumb and made this legendary franchise, which was once great, into an uninspired money making series of lacking feature films that simply recycled old ideas and tried to hide that by creating seemingly "new" stories.
Hedora is one of the lamest movie mosters of all time. But it's okay. This film is so lame it just fits right in with the scenery. Bad, bad, bad movie....
Bryan Davis
Super Reviewer
Godzilla Vs Hedorah (Gojira tai Hedorâ) (Godzilla vs. the Smog Monster) Quotes
There are no approved quotes yet for this movie.