Godzilla Vs. Monster Zero
(1970)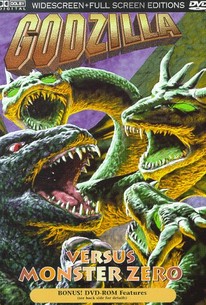 Godzilla Vs. Monster Zero Photos
Movie Info
Also known under the title Monster Zero, Godzilla and Rodan travel to Planet X to help an alien race defeat the three-headed Monster Zero (also known as Ghidrah) that threatens their home. However, the inhabitants of Planet X may not be as honest and as helpless as they let on.
Critic Reviews for Godzilla Vs. Monster Zero
Audience Reviews for Godzilla Vs. Monster Zero
This is the sort of bad movie with cheap monster costumes that can be fun to watch with friends. I need to see more Kaijû pictures. I don't have much context currently for comparing this to other movies of the genre. The spaceship effects are somewhat impressive, however, the odd Planet X alien costumes, doctor character (Tazaki) who seems to have no useful scientific knowledge to contribute, awkward dubbing, and plot holes, especially the inconsistent way that the Earthlings (Nick Adams and Akira Takarada) use loud noises to escape and disrupt the alien communications network leave me unconvinced of the greatness of this series. Actors made clumsy by bulky costumes do not make for the kind of action provided in Harryhausen stop-motion or modern CGI.
Byron Brubaker
Super Reviewer
½
The sci-fi is amped up more than previous entries, resulting in one of the more interesting entries in the Godzilla franchise and more enjoyable than the previous entry "Ghidorah: The Three Headed Monster". The film features American actor Nick Adams, playing a tough American astronaut named Glenn. Nick Adams gives a decent performance and adds a certain amount of flare to the film. The monster fighting is sporadic and rather short, but the human characters and the deliberately campy "Star Trek"-like plot makes the whole film worthwhile. The people of Planet X, for as goofy looking as they are, make for very good and memorable villains. This movie also introduced the idea of people taking control of monsters and using them for villainous purposes, a plot device that will be re-hashed many times in the Godzilla franchise. The english dubbing is also rather good in this movie when compared to other Godzilla dubs. Plus seeing Godzilla do a goofy dance after defeating King Ghidorah is just icing on the cheesy but enjoyable B-movie cake.
Christopher Heim
Super Reviewer
Another enjoyable Godzilla film. This time King Ghidra has appeared on a new found planet. The inhabitants ask to borrow Godzilla and Rodan to help them out in return for a cure to cancer. This film encompasses even more of a science-fiction tone. It does does it very well, with some nice interior designs and costumes. It once again focuses on the humans more than the monsters, even if the human characters lack some of the likability from previous outings. The monster fights aren't as impressive, with one of them taking place on a barren planet. A nice change, but no smashy :( Godzilla really begins to embrace his hero role, which makes this less horror. A nice development for the series.
Luke Baldock
Super Reviewer
Godzilla Vs. Monster Zero Quotes
| | |
| --- | --- |
| Astronaut Glenn: | You rats! You stinkin' rats! What did you do to her?! |
| Astronaut Glenn: | you should've left your sister packed in ice! |
| Astronaut Glenn: | I've got big news for you, pal! |
| Astronaut Glenn: | Well, we sure as hell aren't gonna wait for the next ferry! Swim! |
| Astronaut Glenn: | Whatever's fair, pal. |
| Tetsui Teri: | It would really stand him on his head! |
| Astronaut Glenn: | Sure, it'll shake your teeth loose! |
| Astronaut Glenn: | The enemy is very strong...you better do something spectacular! |
| Astronaut Glenn: | We're gonna fight to the last man baby! |