Godzilla's Revenge (All Monsters Attack)
(1971)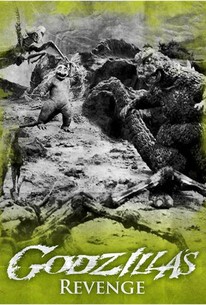 Godzilla's Revenge (All Monsters Attack) Photos
Movie Info
A continually ridiculed young boy dreams of traveling to Monster Island, where he is tutored in the art of fighting by the massive fire-breathing lizard Godzilla. This Japanese sci-fi fantasy uses the boy's fighting lessons as an excuse to reuse fight sequences from numerous previous Godzilla films.
Critic Reviews for Godzilla's Revenge (All Monsters Attack)
All Critics (8) | Fresh (2) | Rotten (6)
It's not outrageously stupid enough to be as bad as the very worst Godzilla films, but it certainly deserves to be ranked among the most tedious.
It is for desperate fans only and is pretty bad even by the loose standards of the genre.
March 10, 2003 | Rating: 0/5
Audience Reviews for Godzilla's Revenge (All Monsters Attack)
Using stock footage, Godzilla's Revenge is one of the least inspired movies in the Godzilla series. This was an awful train wreck of a movie that was simply made to make money off its fans, and robbed them of a new idea for a monster film. The result is awful, unwarranted trash that just fails to entertain due to the fact that it is something that we've already seen. If you've seen the previous entries, then you're not missing out. The lack of original material is apparent and there is nothing interesting going on. The film just lacks because at this point of the series, it is clear that the filmmakers were scrambling with coming up with new ideas, and in turn they failed to create something refreshing, something we haven't seen in the series. This is the first big disappointment in the series and with the use of stock footage from previous Godzilla pictures, it just ends up feeling dull and pointless. The appeal of Godzilla films lies in the legendary monster battling it out with other monsters. However there is nothing here to appeal to fans. Disappointing movie that lacks in terms of originality and one that is a total waste of time. This is a shame because they really could have come up with something better than recycling old footage. The use of previous footage was used to keep production costs at a minimum and it shows. Godzilla is an icon of cinema, and it's a shame the filmmakers couldn't give this entry any thought. Predictable, overdone and dull, Godzilla's Revenge simply is an entry that doesn't do the series justice. If you've loved the other films before this one, then skip this one, you're not watching any new here.
Okay, this one was just awful, not only to a godzilla fan, but as a film in general, its just godawful trash. Its just shameless use of stock footage. The plot is absurd, in a bad way, the character is an annoying brat wanting to see godzilla but hangs with his son minilla, who can talk, yeah, once i said that a monster can talk, it just sound stupid, it is, but you have to experience on how stupid it really is. Its just shamelessly dull, confussing, annoying and is simply the worst film in the godzilla series. godzilla's revenge, the revenge happened when godzilla saw this piece of trash. F
Juan Charqueno
Super Reviewer
A disgrace to the franchise. Sure it's meant for kids, but I just can't fathom how awful it is. First of all, it's not a Godzilla movie. Not really, as all the Godzilla sections take place in the dreams of a young boy. The real story is about a bullied boy and his coincidental run in with some bank robbers. He learns some valuable life lessons from Godzilla's son on Monster Island every time he sleeps. In the boy's dreams, Minilla is able to talk and change size. A number of fights are stock footage reused from previous films. An obvious budget cut after the expensive Destroy All Monsters. The film goes on and it's kind of fun in a way, but in the end, after the boy has learned a valuable lesson, the final scene has him doing what the bullies dared him to do in the beginning. This ends in a prank that was dangerous and disrespectful. As he runs away the boy sees his (mostly absent) father, whom agrees to stall the man now chasing him. What kind of a message is this? Fuck you, you little shit! Thinking your the cats balls because you went up against some criminals. I hope the real Godzilla stamps on your head.
Luke Baldock
Super Reviewer
Godzilla's Revenge (All Monsters Attack) Quotes
There are no approved quotes yet for this movie.