Going My Way
(1944)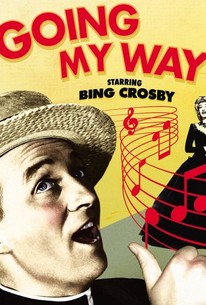 TOMATOMETER
AUDIENCE SCORE
Critic Consensus: Bing Crosby and Barry Fitzgerald are eminently likable, and film is pleasantly sentimental, but Going My Way suffers from a surplus of sweetness.
Movie Info
It took some doing to persuade the staunchly Catholic Bing Crosby to play a happy-go-lucky priest in Going My Way; luckily he acquiesced, winning an Academy Award in the process. Crosby is cast as Father Chuck O'Malley, newly arrived at rundown, heavily in debt St. Dominic's Church. Father Fitzgibbon (Barry Fitzgerald), the cranky, set-in-his-ways curate of St. Dominic's, is none too pleased with O'Malley's breezy, "modernistic" methods. Fitzgibbon is content to adhere to the policies he has followed for nearly 45 years. Without overtly challenging Fitzgibbon's authority (he likes the old buzzard, and the feeling is mutual), O'Malley sets about to win the confidence of the local street toughs, organizing the boys into an angelic church choir. He also forestalls the plans of St. Dominic's mortgage holder Ted Haines (Gene Lockhart) to evict Fitzgibbons by arranging a fundraising choir tour, to be headlined by O'Malley's childhood friend, opera star Genevieve Linden (Rise Stevens). When he's not coming to the rescue of St. Dominic's, O'Malley is smoothing the path of romance for Haines' son (James Brown) and orphaned Carol James (Jean Heather), and arranging for a reunion between Fitzgibbons and his nonagenarian Irish mother. There is sentiment by the bucketful in Going My Way, but director Leo McCarey sagaciously tempers the treacle with moments of genuine hilarity and several delightful (and seemingly spontaneous) musical interludes. In addition to Crosby, Oscars went to Barry Fitzgerald, Leo McCarey, screenwriters Frank Butler and Frank Cavett, and Burke and Van Heusen's song hit "Swingin' On a Star." Bing Crosby repeated his father O'Malley characterization in McCarey's 1945 sequel The Bells of St. Mary's. ~ Hal Erickson, Rovi
Critic Reviews for Going My Way
Audience Reviews for Going My Way
Der Bingle burbles bubbly as a bouncy and hip priest sent in to Hail Mary a losing parish. Barry Fitzgerald plays the cantankerous older curmudgeon already running things, unaware that time has passed him by. There's nary a sermon in hearing, but plenty of singing to solve whatever problems that might show up in this lighthearted romp that gave the befuddled audiences of the day exactly the assurance they must've needed in the face of the burgeoning youth demographic. Not bad.
Kevin M. Williams
Super Reviewer
Alright, so yeah, this film is very old fashioned, schmaltzy, sentimental, and even a tad corny perhaps, but you know what? I don't care. It's entertaining, well meaning, pretty good, and really hard not to like. We need stuff like this once in a while. The story concerns a young and easy going priest named Chuck O'Malley who is assigned to St. Dominic's: a church on the brink of going under. He doesn't get along with the head priest Father Fitzgibbon, but when the effects of O'Malley's attempts to bring the community together are felt, things do begin to change for the better. This is a nice little film, and it did spawn a sequel: The Bells of St. Mary's. That one's a lot like this one, with a similar plot and premise, but it is here where Crosby originated the character, and won an Oscar for his efforts. He really does put in some nice work, and he, like the character, is just really hard to dislike. He's just so damn charming and irresistable I can't stand it. Barry Fitzgerald is also quite good as Fitzgibbon. and Rise Stevens and Frank McHugh are decent as childhood friends of O'Malley's. All in all, this may be a pretty light and predictable film, but it's a harmless film with a lot of heart and a good message. It also looks good, and the singing is top notch too. Give this one a go. It may not be worthy of all of the Oscars it won, but it's hardly a forgettable piece of dreck.
Chris Weber
Super Reviewer
An unconventional priest works to reform a failing parish. I'm a big fan of Bing Crosby's voice; so easy and melodic, he makes it seem as though anyone can sing like him, which of course no one can. But this isn't a musical. It isn't a drama or comedy either. If anything, it's two hours of the most saccharine nonsense I've seen. At the heart of this diabetic's nightmare is Crosby's character, Father O'Malley, who is flawless. His character is never put up for question, and his methods, ideals, mannerisms, or personality remain thoroughly unchallenged by other characters, the film's circumstances, or any subjectivity. He is just there in an untarnished and idolized unreality. The film's problems, such as they are, seem no match for O'Malley, and we see him easily navigate the church's financial troubles, a woman who's run away from home, and an old flame who serendipitously re-enters his life. And when the film ends on another sweet note, I felt like I had just seen a slice of life that was so watered down with religious idealism that it bore no resemblance to anything I've seen living. Overall, there's nothing memorable about Going My Way except for the few moments when we get to hear Crosby sing, but for that you can buy the soundtrack and save yourself two hours.
Jim Hunter
Super Reviewer
Going My Way Quotes
There are no approved quotes yet for this movie.