Going Places (Les valseuses)
(1974)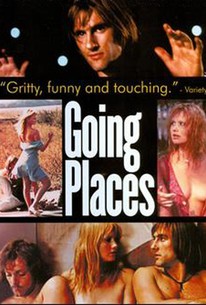 Going Places (Les valseuses) Photos
Movie Info
Director Bertrand Blier's Les Valseuses features Gerard Depardieu and Patrick Dewaere as a pair of sociopaths wending their way across France. Though Depardieu is the more dominant of the two, both men are equally culpable in their disregard for common decency. They are particularly rough on women, even the like-minded Miou-Miou, whom they both love in their own way. Jeanne Moreau has a brief bit as an ex-convict who sleeps with both Depardieu and Dewaere.
News & Interviews for Going Places (Les valseuses)
Critic Reviews for Going Places (Les valseuses)
Audience Reviews for Going Places (Les valseuses)
½
This is a pretty damn good movie, all things considered. I mean it only becomes like that in the last act of the movie or so, when Jeanne's son gets out of prison. I think everything leading up to that, however, doesn't manage to stand out as much. I mean the movie is never bad, Gerard Depardieu and Patrick Dewaere have great chemistry with each other and it's definitely refreshing to see a movie, even if it's almost 40 years old, that treats its characters without much in the way of sentimentality. Hell the main characters are definitely easily unlikable, but the movie doesn't try to present them as anything other than that. It would be far more offensive if these men, who would do favors for women just so they can get laid, if the movie tried to make them into good and likable characters. At least whoever wrote the movie recognized that. Not to say there isn't many funny moments in the movie because there are, especially in the last act of the movie. The problem I have with the majority of the movie is that it seemed to be going nowhere for a lot of it. Yes these guys were on the run, but I don't think much of note happened. The one thing the movie did do, and I wasn't expecting it, is touch on the homosexual undertones between these two characters. It's only mentioned in one scene and never again, but at least they touched on it since you could've, and I did before that scene, made the assumption these guys had something with each other just in how the way they acted around women. But the movie could've used a bit shortening, maybe shave off 20 or so minutes, and you could've easily done that. Again the movie is definitely very good, despite it's rough start, I'd recommend it.
Jesse Ortega
Super Reviewer
an anarchic road trip movie, very much of it's time (1970s). the french title les valseuses translates to 'the waltzers,' a slang term for testicles, so the film should probably be called 'the balls.' there's plenty of sex as the two buddies try to make every woman they encounter, in between robberies and stealing cars. jeanne moreau has a touching role as an older woman just released from prison and also look for a very young isabelle huppert. much fun and not for the prudish.
Stella Dallas
Super Reviewer
Going Places (Les valseuses) Quotes
There are no approved quotes yet for this movie.