Golden Door (Nuovomondo)
(2007)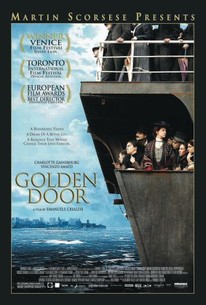 TOMATOMETER
AUDIENCE SCORE
Critic Consensus: Slow-moving but ultimately rewarding, Golden Door is a profound drama with scenes of fantastical magical realism, lively humor, and stunning images.
Golden Door (Nuovomondo) Photos
Movie Info
A family living in poverty leaves behind the world they know in hope of finding new opportunities in this historical drama from director Emanuele Crialese. The Mancusos are a family struggling to make ends meet in a small farming community in Sicily in 1913. Life has long been hard for the Mancuso Family, who have lived in the same village for generations, and one day they are visited by a man who claims to be from the United States. The man tells them of the wonder and plenty of life in America, an offers to make it possible for them to travel to the New World and find work there. The Mancusos cautiously accept the offer, but after a dangerous voyage aboard an ocean liner, the family arrives in New York to face a number of new challenges -- the humiliating examination at Ellis Island, and abandoning their old lives and ways as they struggle to assimilate in a massive city that is now their home. Starring Charlotte Gainsbourg, Francesco Casisa and Vincenzo Amato, The Golden Door (aka Nuovomondo) received its world premier at the 2006 Venice Film Festival.
Critic Reviews for Golden Door (Nuovomondo)
Audience Reviews for Golden Door (Nuovomondo)
½
Golden Door is a miniature epic, tracking a Sicilian's family emigration to the USA. It starts much too slowly, and although characters are established, it is ill thought out - particularly the dream sequences, which could have provided an added insight.Once the action moves onto the voyage, however, and Charlotte Gainsbourg's character is introduced, an interesting story emerges, and this, combined with humorous touches, are what make the film bearable. It is well directed and shot, with the other lead character, Vincenzo Amato, also impressing.. 2 1/2 Stars 3-19-14
Bruce Bruce
Super Reviewer
½
[font=Century Gothic]"Golden Door" is an intricately detailed yet ethereal movie about the journey of a group of Italian peasants to America around 1900. Hoping to be reunited with his brother in the New World, Salvatore Mancuso(Vincenzo Amato) travels with his sons Angelo(Francesco Casisa) and Pietro(Filippo Pucillo), along with his elderly mother(Aurora Quattrocchi). They are escorting two young women, Rita(Federica De Cola) and Rosa(Isabella Ragonese), who are going to the United States to marry men they have never met. Just as they are about to depart Italy, Lucy Reed(Charlotte Gainsbourg) enters the picture...[/font] [font=Century Gothic][/font] [font=Century Gothic]None of the emigrants have ever gone any distance beyond the village they were born in, so what makes them take such a perilous journey is the extreme poverty at home coupled with the fantastic promises of America which include money on trees, huge vegetables and rivers flowing with milk. They are not stupid, just lacking a proper education at a time when technology is not quite at a point to permit a free flow of information. All they have are postcards of a wondrous land.[/font]
Well-shot immigration drama ends on quite a peculiar note.
William Goss
Super Reviewer
Golden Door (Nuovomondo) Quotes
There are no approved quotes yet for this movie.