Golden Temple Amazons
(2005)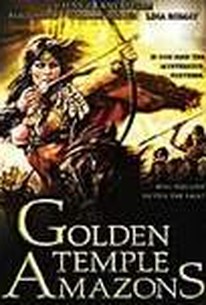 AUDIENCE SCORE
Critic Consensus: No consensus yet.
Movie Info
Jess Franco presents another tale of breasts, blood, and inhumanity as a woman takes revenge on the Amazonian tribe that killed her parents in Golden Temple Amazons. Raised by a jungle tribe, Llana makes her way to the gold mine where the slaughter occurred and encounters the devilish leader Uruck and his cruel headmistress, Rena. Years before, her parents stumbled upon a hidden stronghold built on top of the mine, but were killed to protect an ancient Amazonian secret. As she infiltrates the temple, Llana plots her wicked revenge on the inhuman souls who brutally punished her parents. ~ Jeremy Wheeler, Rovi
Critic Reviews for Golden Temple Amazons
There are no critic reviews yet for Golden Temple Amazons. Keep checking Rotten Tomatoes for updates!
Audience Reviews for Golden Temple Amazons
½
Laughable jungle nonsense. Or is it savannah nonsense? Hard to tell the way these warrior women jetset between rainforest and Serengheti locations. Hey Franco, here's a hint: Amazons are supposed to live along the Amazon, not cavort with lion cubs on the African plains. Actually released in 1986, not 2005. Opening shot sets the tone with ten women riding topless in slow-motion before our main event Liana (Joan Virly) takes the stage. She's attractive but has the worst sense of danger for someone who grew up in the wild for 16 years, getting captured by surprise FOUR times! Lots of other laughs too: the zipline that substitutes for vine-swinging, the missionary whose idea of an introduction is to tell Liana her parents were murdered, the bendable arrows, malevolent cave gas, rampant bad acting, and the pathetic "Go away or else!" ending. Things that will get on your nerves include Kuku the incredibly annoying pessimistic chanting shaman, two pieces of unimaginative music alternating as a soundtrack, and long-distance action shots. One reason to choose this over any other similar silly adventure is Lina Romay's impromptu skinny dip followed by an inexplicable nude walkabout, but no-one's complaining. Best line comes from Liana, covered in pelts and furs: "All the animals are my friends." Um, except the ones she's wearing, obviously.
Doctor Strangeblog
Super Reviewer
Golden Temple Amazons Quotes
There are no approved quotes yet for this movie.